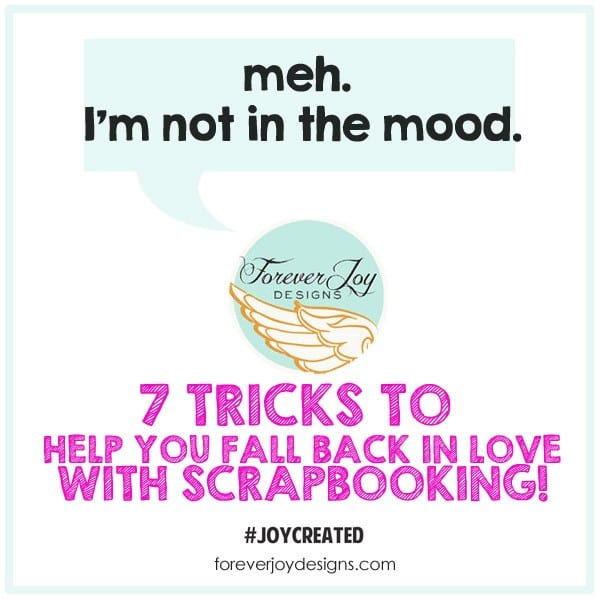 Admit it girls. Sometimes we need help getting in the mood. You know you want to, but there are just some many other things calling or, there are so many ways you want to do it- that the choices seems to overwhelm you and then the mood is gone. You know I'm talking about scrapping, right? Because seriously, isn't that the most fun you can have on a Saturday night?
But lately, I found that the spirit may be willing but the mojo is weak, and I blame it in part to a wealth of supplies and glut of photos I accumulated over the holidays. There were lots of great sales, awesome new designs and projects and I had accumulated about 1200 photos since early November- but between work, holidays and life, there wasn't much free time for me to scrap. And now when I did decide to carve out some time-  I was faced with too many choices and a little bit of guilt in having so many things to choose from. 
I used to make it a point to take time on the weekend just for me to do my memory keeping. It was when I would catch up on blogs and classes, do some scrapping and fill in my Project Life- but right around early November, I began breaking those dates and now it's been way to long since I just sat down to play. But see, that's the problem.  If you don't take the time, no is in going to give it to you. And that one selfish thought got me motivated to kick myself in the pants and get out of this creative rut. I put together an action plan- a manifesto of sorts to get me back on the scrap happy track- here it is:
Start with the photos, not the supplies. Before you scrap, weed out all your photos that make you go meh. and keep the ones that bring you joy. This make not be the "best" photos- they may be over exposed out blurry- but if they evoke an emotion or a story that you'd lie to tell, keep them.
Start with the story too. The photos you pause on mean something, not necessarily because they are pretty, but because there is a story behind them. A voice. That's why I scrap. So that my special photos will not lie silent in a shoe-box 25 years from now- but will have a voice, a song, a secret, a smile- all because I chose to give them life on a page.
Make a simple bullet list of the stories you'd like to tell. This can be on index cards, in a notebook, or in the margin of your planner or calendar. But I recommend it be in ink and simple.   Refer to your photos to spark your stories- but dont worry if you have a story but no photo that actually goes along with it- you can fill in the blanks with a photo that fits after your story has been written down.
Don't worry about the timeline- but start with recent photos first. I still have holiday photos and my December Daily to complete- but I'm going to work on the past 2 weeks of photos first, then work backwards as time allows. Life goes on- and I don't want to miss now looking back on the past. The past isn't going anywhere- but this moment will if you don't seize it.
Let go of perfection. I love doing Project Life- and adore my 2015 album. But early on the process last year- I realized I can't do it as a strict weekly project. My album is more like a monthly summary- but I find doing it twice a month works best for me because I don't feel overwhelmed and I usually have a few good stories to tell on a bi-weekly basis.
Clean your scrap supplies. Whether its your hard drive or your scrap stash, physically go through it, organize it and get rid of whatever doesn't work for you anymore. Take stock of what you have. Rediscover things you've forgotten. I always find that going through my supplies sparks ideas of even more stories I'd lie to tell- and then I flip my whole process on its ear and start with the supplies. But that's cool. You need to go with the flow, because all that really matters: what is really going to bring joy to you years from now is having a meaningful collection of stories you have captured.  
Be the friend you love to chat with. Think about it- when you spend a great night catching with a friend, you don't share things in a chronological order, and speak in just one way. Sure, things may start with a quick run down of what's happening lately, but then you enjoy a few anecdotes, some remember whens and then the treasured- oh my gosh I almost forgot about that! Your stories will range in emotion and depth- but collectively, after sharing them together, you will end the night with a smile. That's how I want my scrapbooks to be. I want to close each book with a smile and think, "that was a great time!"
I guess when it comes down to it- the way I got back on track was by remembering why I jumped on the track to begin with.  Going through my photos, collecting stories taking stock of the different ways I can tell a story and focusing on one medium at a time-  and Ill leave you with this: Take the time to scrap. Take it- because honey, no one is going to give it to you. And no one ever regretted putting aside a few chores to make a layout. The laundry will always be there, the dinner can always be ordered- but the memories- they need to be captured.