Hey! Welcome to the ForeverJoy stop of The LilyPad's 2016 pre-DSD Blog Hop! Digital Scrapbooking day has moved to the first Saturday in October- which is next week! During this pre-party weekend, designers at the Pad have teamed up to bring you an awesome digiscrap Collab Kit called "Of Wishes, Hopes and Dreams".  Hop through all 22 stops to get Part One for free! These downloads are available to day thru September 29th.  Then, watch for Part Two in the shoppe as a special Free With Purchase on DSD, October 1 during our store wide sale and Forum party!
Here is my gift to you to kick things off! A set of vellum styled word art! Just click on the image for your automatic download, then scroll down to the next image to hop through to the next stop!  If you're not already signed up, I invite you to subscribe to my newsletter! Not only will you never miss a new release, you will enjoy subscriber only savings and promotions!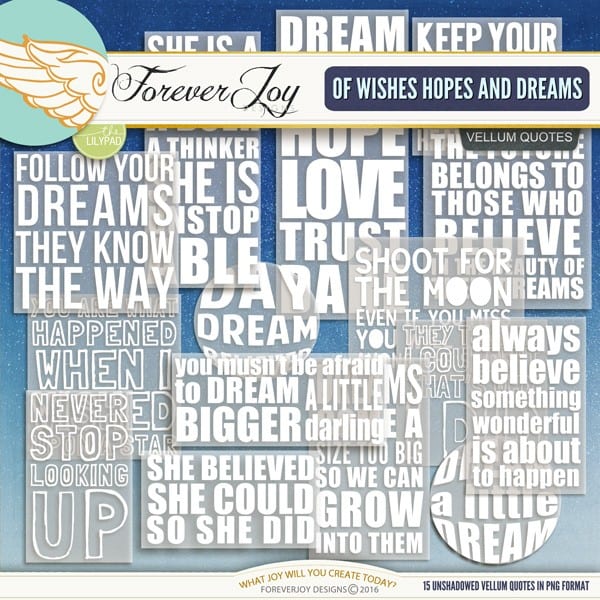 Thanks for visiting my blog during TLP's Of Wishes. Hopes, and Dreams Part 1 freebie hop! You can download my contribution by clicking the image above, or HERE.
Then, continue on to the next stop at Nancie Rowe Janitz's blog-
Remember, the freebies for Part 1 are only available through September 29th. Look for Part 2 in the shop as a Free with Purchase during our Digital Scrapbooking Day celebrations, from September 30 – October 3.