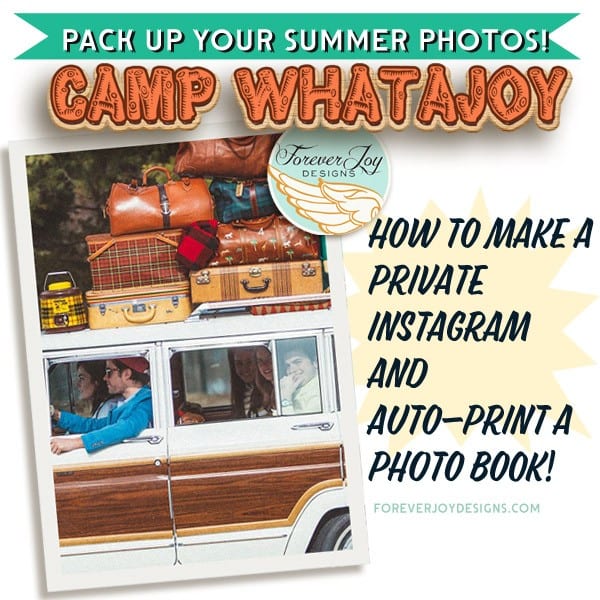 Hello Campers! It's Week Two here CAMP WHATAJOY – and  I wanted to share some Survival Skills with you!
I have been terrible at taking photos this year.  I don't know if it's because the boys are getting bigger and don't embrace photo ops the way they used to- or if life is very fast paced- but I have very few photos of the past few months- and I don't want to make this my new norm.
I've challenged myself to make photo journaling my priority this summer. To be sure to capture the little moments because summers with the 2 boys are numbered. My big guy Ryan is 20- Liam is 12.  Silly days all together are getting harder and harder to have- especially with Ryan working. I need to push pause on this.
So- here's what I set up over the weekend – and I wanted to share it with you.  Think of it as a way to pack your summer photos at CAMP WHATAJOY.
I set up a system to create photo books on auto pilot. Here's how!
I added a separate and private account to my Instagram.  No one sees this but me. I will add my photos and a few notes or thoughts about each one (sometimes just a hashtag and an emoji will do the trick) It's just important to write a little something about each photo.
If you need help figuring out how to add an account- follow these directions from Instagram  For help about how to change your account to private- check out this tutorial on the Instagram site. 
Important: Do not use the same email or phone for your second Instagram account.  You need to have different emails or phone numbers to recover your account!
Next- I set up a Chatbooks account linked to my private Instagram Account. After every 60 photos,  Chatbooks will generate a really cool mini book and mail it to me for free for just $10. You can customize your covers for a little more- but I have loved the base price model. Two cool features I love are that I can upload directly from my computer- and if i do connect if to my Insta account- I can micro tailor what photos are pulled by hashtag or date!
I've created books in the past- but because my Instagram account has become a mix of both business and personal- it was hard to keep up.  But now with a personal private account- I can create layouts every night simply by playing on Instagram. Then I can add in photo I take on my DSLR and tweak the journaling if I'd like. And let's say I forget- and just let the Instagram feed the book on its own- the book makes itself- no extra work from me!
My plan is to create a book for July.  Baby steps, right? My hope is that it will become a habit and that no matter what, when the year is over, even if I have actively not scrapped a page- I will still have captured the photos and stories! 
The awesome folks at CHATBOOKS have extended a great offer for me to share with you!
If you use this link you will get $10 off your first book!
http://invite.chatbooks.com/4tgno7
(It kind of lets you scrap to summer for FREE!)
Here's a peek from some of my past books! The journaling is pulled straight from my Instagram posts!