After 9/11 here in NYC, one thing that kept my spirits up was the simple comfort from Mr. Rogers.
"When I was a boy and I would see scary things in the news," Rogers said to his television neighbors, "my mother would say to me, 'Look for the helpers. You will always find people who are helping.'"
These days, as we join together around the television and radios and digital screens for update on the collective war we are waging against the viral pandemic– I think we all feel the heavy blanket of worry and concern.  Being isolated from so many we love isn't easy. Times are tough- there's no wishing that away.
What I do find comforting though is that you do not have to look far for the helpers.  There are so many stories of people helping one another- in great gestures and in small. Here in NYC- most people are of course keeping a safe social distance from one another- and that's a little unsettling.
But do you know what I've noticed? As we pass each other, a safe 6 feet apart- people have begun to make eye contact with each other- to smile and nod hello- or, even say it out loud! "Stay safe!" "Have a god one" … that is almost unheard of in this city! No one talks to each other- and eye contact with strangers is usually a call sign of people who would do you harm.
Neighbors are looking in on each other- people are leaving little gifts for the delivery folks and mail carries, and, American Flags are flying on almost every home- regardless of political belief.
There is good in every day- and noticing it, documenting it is what helps keep us swimming against the current of concerns these days.
This is a season- this is not forever. And though we are distanced from each other- we are not alone.  We are all in this together.
The story of your day today is not the formless CoVid19- it is written on the strong walls of your home.  Life goes on around you- there is a story to be told beyond the statistics- it is one of your strength, of of your faith, one of the love you have around you, of the blessings that still fill your life.
Take a moment to tell those stories. In whatever medium you can- a layout, a photo, a journal, a notepad on your phone- a video clip you make each day.
I made this little gift for you to use as you'd like- maybe to help document the bright side of today. All I ask- is that you spread a little good news before you download it- leave a comment of one little (or big!) bit of something good you found in your day-
We could all use the smile!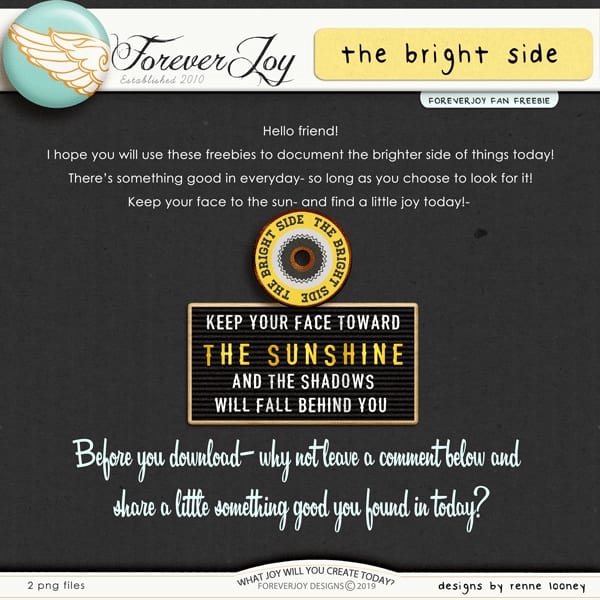 [ just click on the image, your download will be automatic! ]