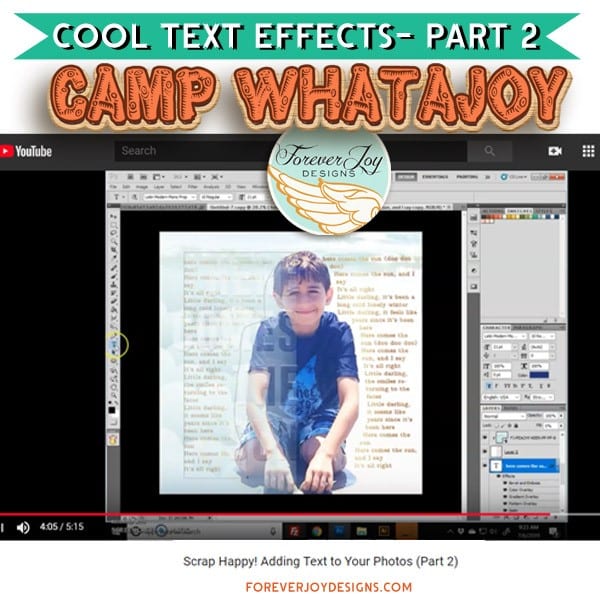 Hey Campers! It's Week 4 at CAMP WHATAJOY and once again we are kicking off with telling a Campfire Stories!  This week- I am sharing mine in the form of a YouTube Video on the ForeverJoy Channel!
Quick side note- there was a previous channel last year- but my old Google Account was hacked! Seriously- who does these things?  My entire channel was wiped clean by Google despite months of appeals and evidence. Tons of videos were lost- and while it still makes me a little sick to think about it- and how I could have set up safeguards if I had only known-  I started a new You Tube Channel here and have been working to add content that will add to the joy for this hobby I share with you!  If you like what you see there, please show your love and subscribe!
If a picture can tell a thousand words- then friends, a picture plus a few words can tell triple that! But, let's be honest.  Sometimes when you are creating a layout, there are a few reasons you may feel like journaling. You may have told the story of this photo in an earlier layout, you may be short on time or mojo to write, or you may want to convey more of a feeling than a story.
One of my favorite tricks is to let a pop star do the hard work for me! I find song lyrics that go with my photo and add them into my layout. It creates instant mood and sometimes tells my story better than I can!  One of my favorite projects was a mini book a made years ago using nothing but spare photos and the lyrics to a song I love, My Wish by Rascal Flats.  You can see it here.
I used that tip in a recent layout of my little guy, Liam on the beach. I had already described the day and a few stories in other layouts- but I wanted to spotlight this photo- and wanted to use something other than a title. So I copied the lyrics to Here Comes the Sun by the Beatles and used a fun text effect to incorporate it into the layout.  I made a quick 5 minute tutorial here to show how I did it – and have a challenge for you!
This week, try and find a photo you love – it can be old or new- and find a song that captures the spirit of the story you would like to share with that photo.  Then, copy the lyrics and create a text box that compliments your photo- adding the words as more of an element than text.
You can post any of your Camp Activities on Instagram or  in my Private Facebook Group with the hashtag #CAMPWHATAJOY2019   At the end of our time together, there will be 2 lucky winners randomly selected who play along and use the special hashtag  one from Instagram and one from the Facebook Group- and each will get a $15 gift certificate to my shop!