[please note the Blog Freebie + FJ Newsletter Freebie  will expire May 5, 2022]
Spring has sprung- May is right around the corner and that can mean only one thing- NSD is only a few days away! To celebrate- there will be an AWESOME sale and NEW products starting May 6! – and have a fun blog hop themed "Love Starts Here" for you to enjoy this weekend
If you are new to the ForeverJoy Blog- let me start by saying a big HELLO! and inviting you to check out the inspiration, back stories and personal joys I share here. If you like what you see- and want to add a little more joy and inspiration to your memory-keeping- why not sign up for my newsletter?
The top 3 reasons to sign up? Layout inspiration, photo prompts and exclusive offers delivered to your inbox. (plus- you'll never miss a flash sale or ForeverJoy event!) You can sign up with one easy click here.
You can download my part of the Blog Hop by clicking the link below
What's next after that? Scroll down to the bottom of this post and click the link to  travel to the next stop!
Love your download? Leave a comment below!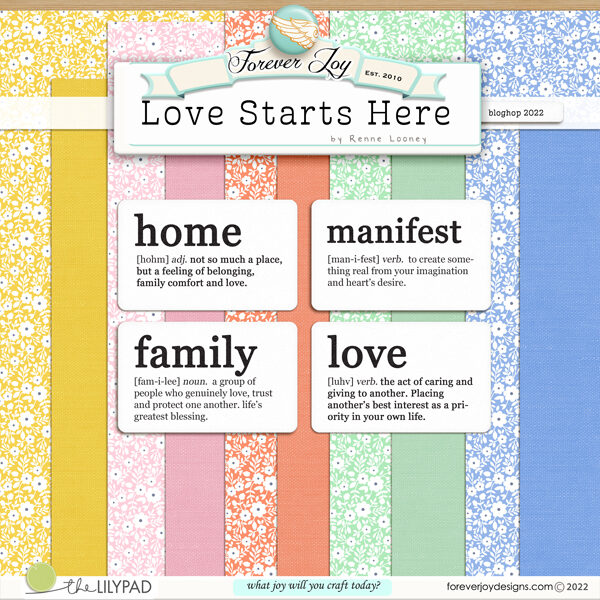 [download by clicking the image or here | link expires May 5, 2022]
*NOTE: If you are having issues downloading, please try a different internet browser (we are experiencing known issues with Chrome) OR right click, copy the link, and paste into a new tab's address bar.
Thanks so much for stopping by! Here's a quick link to visit my shop at the Lilypad so you can fill your wish list in preparation for the storewide sale!
Now that you've added this little bit of Joy to your collection- visit the next stop on the Blog hop here