Hey there my Happy Campers! July is coming to a close and we only have a few days of CAMP WHATAJOY left together.  But, ther are still more than a few weeks of beautiful summer weather to have fun in- and plenty of summer stories to be had and told!
That leads me to the next challenge I have for you and it's two steps:
Take a perfectly imperfect summertime selfie.
Write a "Dear Summer Me" letter to yourself.
Why the imperfect selfie?  Well, I'm a big fan of selfies- and wrote a little about it in an earlier post titled Selfie Love Is Not a Sin. But I wanted to stress they do not have to be perfect.  This one is not necessarily for anyone other than you. And it should be real life. Because I have found that as the seasons and years pass, the photos I once cringed at, and though my smile was too crooked, my legs too larges, my hair too dark- somehow- time erases the imperfections and when i look at them now, I remember the joy that prompted me to take the photo in the first place.  I see stories more than flaws and I see a day I thought was ordinary because it was like so many days before it- but now looking back I see that somehow, everything has changed, and I am living a new normal.  But I know this is just an illusion- there are no normal days, just seasons, and they change.  That's is the rhythm of our days- and the truth is you must pause the moment when you can because this moment is your life. You are beautiful and perfect right now. And your older self will agree with me. I promise. So take the selfie.
The letter can be a reminder, a lesson learned or some advice you would like to share with yourself now. It will also help when you look back on your layout in future summers to see what your priorities were and how they have changed or solidified. Sometimes you don't know what's important to you until you take a moment and write it down.  Once it is written, it's anchored. It becomes a sort of compass you can't help but direct your days by.
I  took the challenge myself – I snapped this selfie this morning as i was in the yard watering my plants and the sun was just coming up.  I did not have coffee yet and you can see I am just waking up. No makeup- no filters. Just life at the moment and it was a good moment to be sure. Simple.  That's a blessing in itself, isn't it?
I made this layout using one of my favorite quotes and images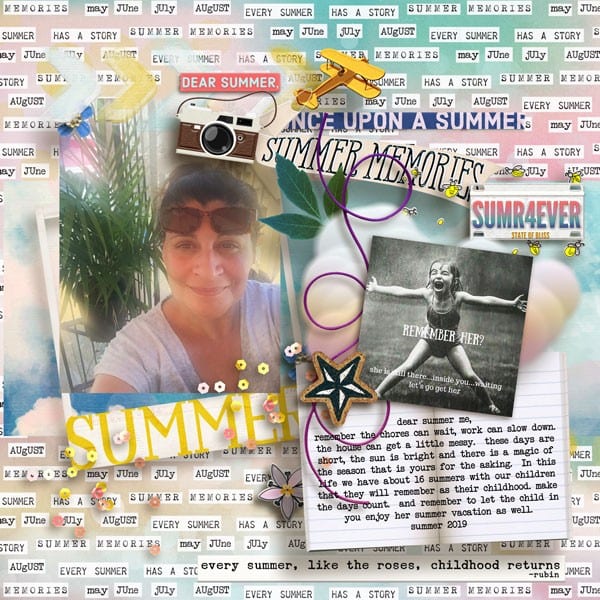 credit: Summertime Stories Digital Scrapbooking Kit | ForeverJoy
Now it's your turn! I would love to see your layout if you feel like sharing! You can share it on Instagram or  in my Private Facebook Group with the hashtag #CAMPWHATAJOY2019   At the end of our time together, there will be 2 lucky winners randomly selected who play along and use the special hashtag  one from Instagram and one from the Facebook Group- and each will get a $15 gift certificate to my shop! 
And since you are telling your own summertime story- I thought it would be fun to share two blank patches for you to customize as you'd like! They will be available for download through then end of July 2019. Just click the image below and the download will be instant!
Finally, there is a sale going on through the end of July in my shop right here on the blog! If the are any souvenirs you'd like to bring home to your hard drive from Camp- they are at a terrific price this month! You can check them out here! 
Ready for your patches? Click the image below and your download will be automatic! (SORRY! lINKS HAVE EXPIRED!