There are so many times I look at a scrapbooking layout and wonder- how did she do that? And then- when the artist shares her secrets- man! It feels awesome to add a few new tricks to my creative process!  That's why I've asked the ForeverJoy Layout Artists to share a few tips and tricks with you here on the blog!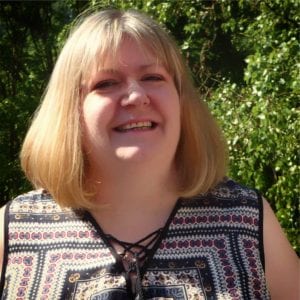 Today, Suzanne @fruitysuet shares how she brought her love of all things flowers to her page- and created an awesome floral wreath with stunning shadow work. Here is her process:
"I'm so excited to be sharing my love of scrapbooking and Renne's products here on the blog.

For this blog post I have created a page inspired by my love of all things flowers by incorporating a floral wreath into my design. In the distant past I had part-time jobs working in florist shops – yes, my love of flowers goes waaaaay back!
Anyhow, I turned to Pinterest and gathered together a selection of wonderful wreathy inspiration.  – inspiration from paper crafting, cake decorating, home décor, card making and weddings – wreaths seem to be having a bit of a renaissance at the moment.

To start out, I wanted some sort of circular frame to work my wreath around. A bit of a browse later and I came across this arrow label. This is from the Just a Moment page kit, as is everything else used on the page.

Initially I selected the blue and created my arrow and circle frame from that. However, not being very technically minded, I was unsure how that would print when enlarged to the scale I wanted, so I went back and created the same from scratch using the shape tools (I use Photoshop Elements 11).

I opened a new page and, using the shape tools, added a circle frame and an arrow, erasing the sections that overhang the circle. I turned off the background layer then merged the shapes together, cropped it close to the shape and saved it as a png file (I added the fill colour to the completed shape so it would be easy to see in the browser).


For the page itself, I used a photo of my daughter on her 18th birthday last year. Chiara gets so excited for birthdays and for her 18th birthday, especially so. Her beauty, joy and excitement just radiates in this photo, which is why it is one of my favourites of her.

I added in a background paper with a small contrasting paper strip to add definition. I flipped the arrow/circle frame so that it was facing the right way and clipped another pretty paper to it. From there, I built up the floral arrangement, layering the leaves, flowers and butterflies, adding brads, stars and string for variation in shape and texture.

At this point I created the smaller clusters (see Renne's post about visual triangles – one of my very favourite and most used design techniques) and added in my journaling, using basic shadowing as I went along. I added in the paint elements as well for additional interest and to act as a base for the clusters and journaling.

The page was good at this point, but I have been trying to improve my shadowing work, so I went ahead and did a bit of tweaking. I do have an action that creates a shadow for an element and puts it on its own layer which I use often, adding in a small wave filter for areas such as the paper strip on this page.

I also added some light and shade to various elements. I did this by creating a new layer, clipping to the element, and brushing over either in white (for highlights) or black (for shade), amending the opacity of the layer to my liking. *Using the layers instead of the dodge and burn tool gives a lot more flexibility and doesn't alter the element itself.

The screenshots below show before the extra shadowing work, and after (note I currently err on the side of subtle!).


If you've been inspired to created something either by my page, wreaths or this beautiful Just a Moment kit, I'd love to see – just add a link in the comments – or tag me @fruitysuet in The Lilypad gallery."