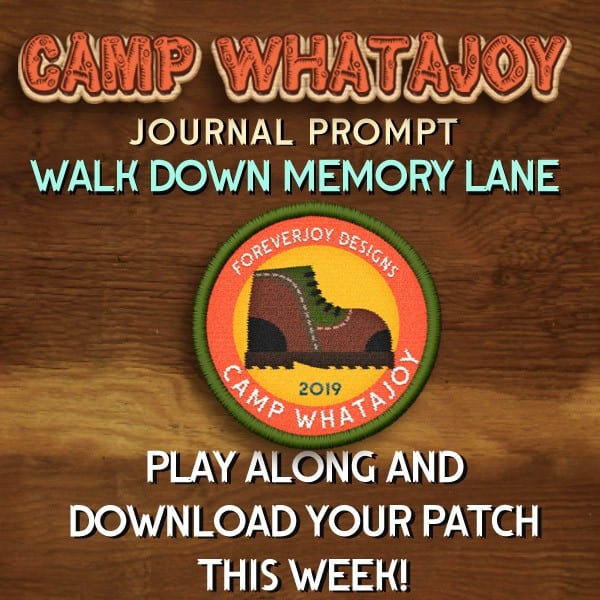 It's Week THREE Campers and today we are going to tell stories while taking a hike down memory lane!
I am a big fan of throwback layouts– pages that visually tell the stories of my younger years. Problem is, back when I was younger- mom didn't have a hard drive full of photos. There may be one small shoe box of pictures of both my sister and I growing up. It's not that my parents dropped the ball- it's just that in those days- most families did not have the archives of photos we have now.
In this post, I described how I filled in the blanks by collecting photos from the internet that filled in the blanks of my stories. And to tell the truth- I had as much fun strolling down memory lane on the web as I did pulling together a layout! 
So your challenge for this week of camp is to pull together a layout telling the story of how you spent one of your childhood summers! And– you should support it with images of the days from the internet.
If you promise to yourself you will do this- I have a badge for you! I wont be checking up on you- it's a "scouts honor" kind of game! I promise you- if you play along- if this is the only game you play with us this month at camp- you will have something so much more valuable than a few badges- you will have a layout that you will love pulling together and sharing!
Ready to play? I would love see your layout if you feel like sharing- but you can keep it private as well- and you can download your badge here till the end of July 2019. Sorry! All Camp Links have expired- keep an eye out for our next activity together! 
You can post any of your Camp Activities on Instagram or  in my Private Facebook Group with the hashtag #CAMPWHATAJOY2019 
At the end of our time together, there will be 2 lucky winners randomly selected who play along and use the special hashtag  one from Instagram and one from the Facebook Group- and each will get a $15 gift certificate to my shop!