Here's a sad truth.  Most days, as I am trying to crunch eight hours of work into a five hour day, a few things go to the wayside- like a semi-healthy lunch.  I have been know to go without lunch-or have cold coffee from the morning along with whatever candy or cookies I could forage from the school snack drawer or just have cereal.  This is not brain food- and is most certainly not happy food.
So, I decided to bring a few of my Pinned recipes to life, and jump into the world of Mason Jar salads. To really understand how I tackled this- you need to know this about me- I loath vegetables. Since forever- I really REALLY can't stand veggies and most definitely can not eat a a leftover salad.  With any hint of wilt- I am losing my cookies- so, I thought finding joy in a mason jar salad would elude me- like a pretty, layered, healthy unicorn…
Ah, but friends, I was wrong! Yummy, crisp, kind-of veggie free mason jar salads do exist- and they are in my fridge right now!
Here are some tips and tricks I have learned-
 If you are just making a salad for you- go with the pint and half jars.  ( I got mine for a great price at Target) If you are going to share the salad (sometimes I pull out a ready made masterpiece at dinner-) the go with the quart size.  Yes- all the jars you see on Pinterest are quarts- but trust me on this- it's really a lot to eat for one.
Don't make a million at once.  These guys stay crisp, bright and awesome for four days.  By day five- meh.
 Make two types at the same time.  Anymore will be a crazy hot mess in the kitchen.
Clean your counters and set aside about 20 minutes to prep– (make sure your jars are cleaned and dry before you begin.)

Pay attention to your layers. Many images of salad jars you see on Pinterest are not in the right order. This is not an OCD or aesthetic issue- layering the right way is what keeps your salads flavorful, crisp and fresh.

The correct order to layer is this:

Dressing goes on the bottom
Crisp items you want to marinate in the dressing go next- (think: tomatoes, red onion, peppers, celery, olives, – these form a barrier to protect the other items from getting soggy. These goodies will marinate in the dressing and pick up a lot of that flavor-
Next- less crunchy goodies- like beans, artichoke hearts, corn, mushrooms, fruit, avocado, guacamole, sliced eggs
Pastas and grains go next if your using them
Then proteins- you need these to make the salad filling.  Think: beef, chicken, tuna, cold cut pinwheels, cheeses
Finally, lettuce.  I really like iceberg or the chopped bag salads that have cabbage, Kale, carrots, radishes in them.  I haven't loved spinach salad or oft lettuces because I think they get a little mushy.  But that's my personal taste. The lettuce always goes on top. Don't trust any photos you may see saying otherwise.
Here's a helpful image I found on The Two Bite Club blog
To date, I have made four different salads- and the trick is to make 2 at a time, and have everything chopped and in baggies before you start. This way, you can have an assembly line- and bag up any leftovers easily.  I cook up one pack of beef for my taco salads, and about 6 chicken tender strips for salads that have chicken.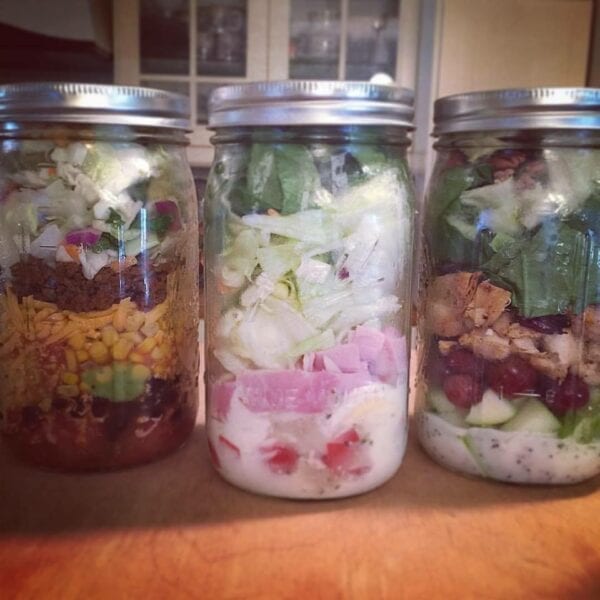 ]
Macho Taco Salad with Guacamole
salsa
southwest ranch dressing
chopped cherry tomatoes
black beans- cold from the can
guacamole (topped with a splash of fresh lemon juice)
corn cold from the can
cheddar cheese
cooked taco beef- well cooled
lettuce
tortilla strips.
*the guacamole stayed bright and happy with the lemon juice.  And no- I didnt mind the meat cold- it was really yummy!)
Chef Salad
creamy blue cheese dressing
cherry tomatoes chopped
sliced hard boiled egg
ham and turkey- sliced thin rolled into a log together and cut into pinwheels
lettuce
pumpernickel croutons
* I liked the blue cheese- but may play with a vinaigrette next time
Chicken Apple and Poppy-seed Salad
poppy-seed dressing
green apples topped with a splash of fresh lemon juice
red grapes, halved
crumbled blue cheese (*goat cheese or cheddar could work too!)
chicken- grilled, cooled and sliced
craisens
lettuce
chopped pecans
[spacer height="20px"]
Chicken Cobb Salad
Blue cheese vinaigrette
chopped cherry tomatoes
chopped celery
chicken- grilled, cooled and sliced
bacon- cooked and chopped
blue cheese crumbles
Lettuce
* I might add sliced avocado next time
Finally, keep in mind, these photo's were taken when I used the big jars- now I am using the pint and a half jars like these: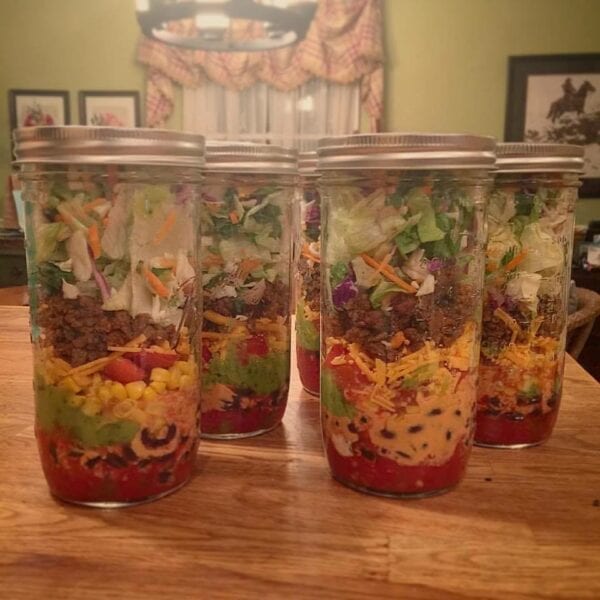 If you'd like to see my Pinspiration for Jar recipes- check out my Pinboard of Jar Joy here! And- I'd love to hear if you have any good ones to share!