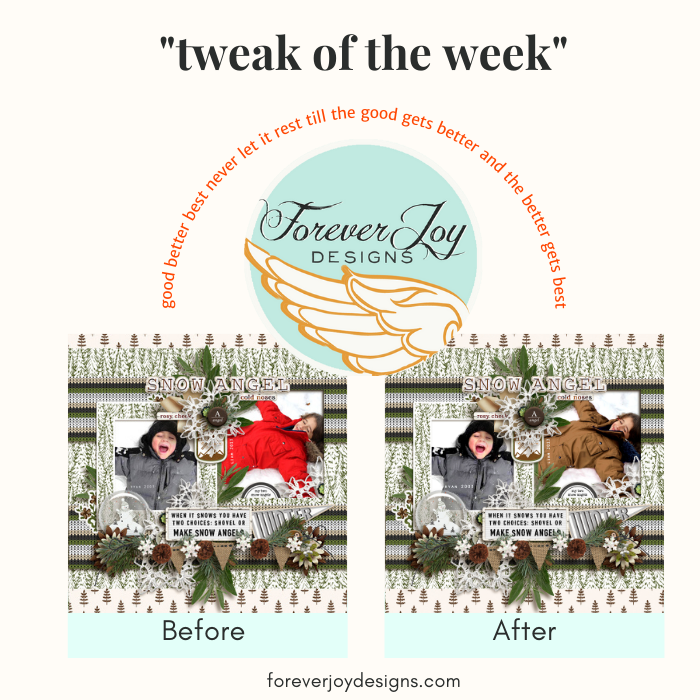 It's a memory from high school that is clear as day- Sister Cecilia is handing back our essays for rewrite- marked in red pen- exclamation marks and circled spelling and her notes if the margins while she drilled into us:
good, better, best, never let it rest- 'till the good gets better and the better gets best!"
Perhaps I have to thank (blame?) her for my perfectionism and my drive to always work just a little harder to make things a little better. Let me share with you how this has translated into the 12×12 squares of my memory keeping:
I was working with this layout the other night-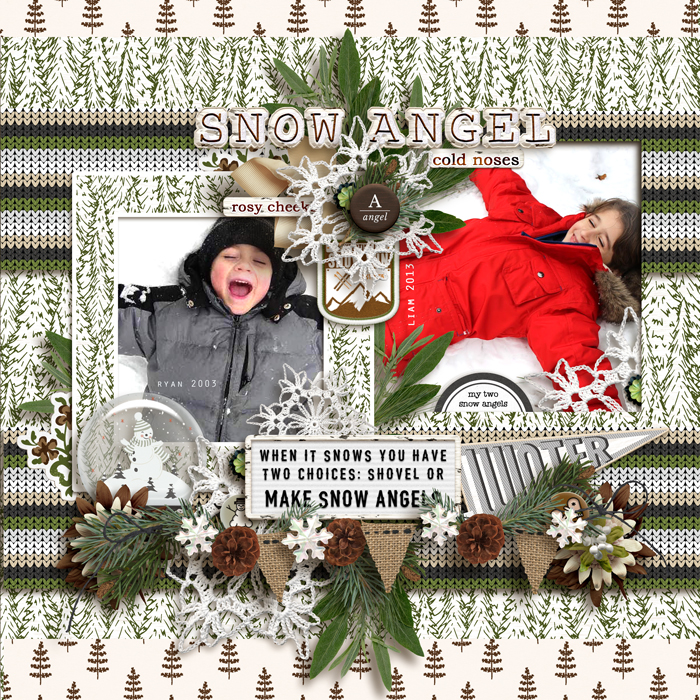 I was thrilled to have the two similar photos of my boys taken about 7 years apart- and I really wanted to tell the stories of how these two love the cold- so, story telling wise- I was happy.
I sat back in my chair and looked at my screen.  Sometimes squinting helps. I like to think I have clearer vision that way- a scrappers superpower. *lol*
I looked the layout over. I liked it- but just didn't love it.  It could be better- just- how?
The colors! The red coat was a nice contrast to the green and the grey coat was a nice match- but the two were working against each other. Either both should contrast- or both should match. There needed to be a better harmony of colors-
First, I tried to desaturate both photos and make them black and white-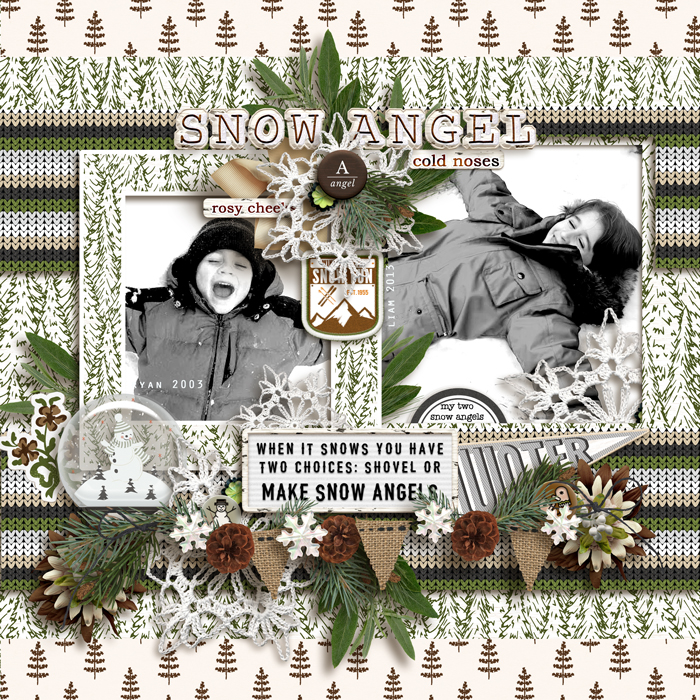 I liked the black and white photo layout better- but felt like the photos lost a little bit of their energy.
Better, but not best.
I decided to try recoloring the red coat. Ctrl-Alt-Z to the rescue.
Life should come with a Ctrl-Alt-Z
Red is one of the easiest colors to manipulate in Photoshop- so I started to play around:
I selected the red coat carefully with my selection tool
and opened the Hue-Saturation slider set to "reds"-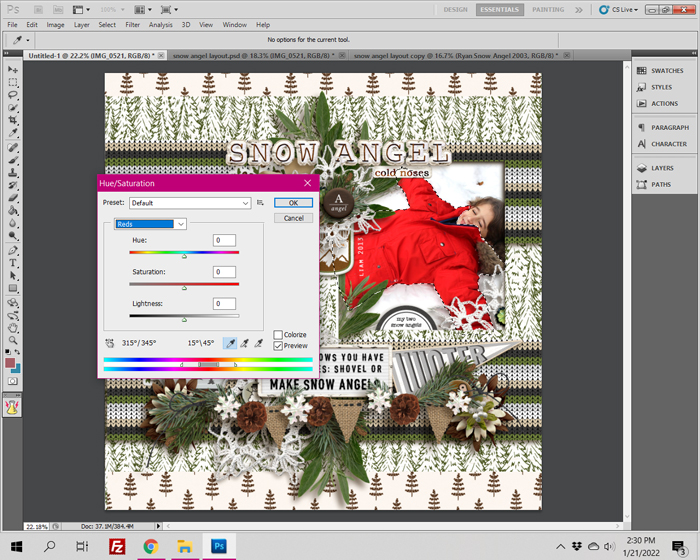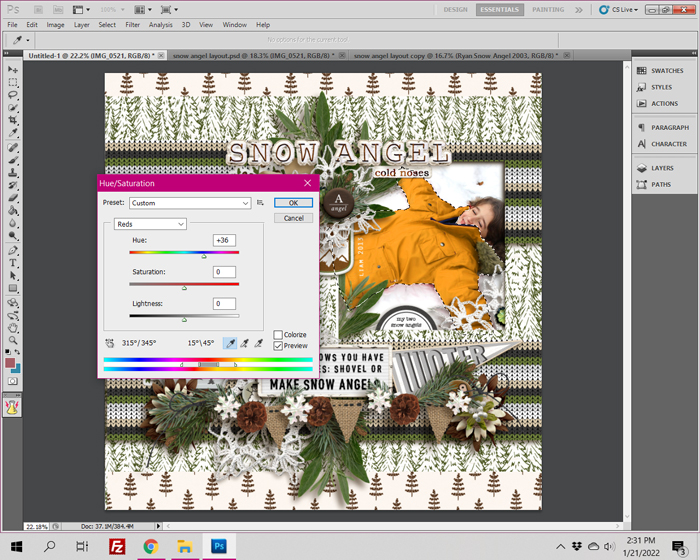 I played around with the yellow and toned it down to a brown to harmonize better with the grey coat.  Then I tidied up the horizontal line that could be drawn from the top of the page title down- and this was the result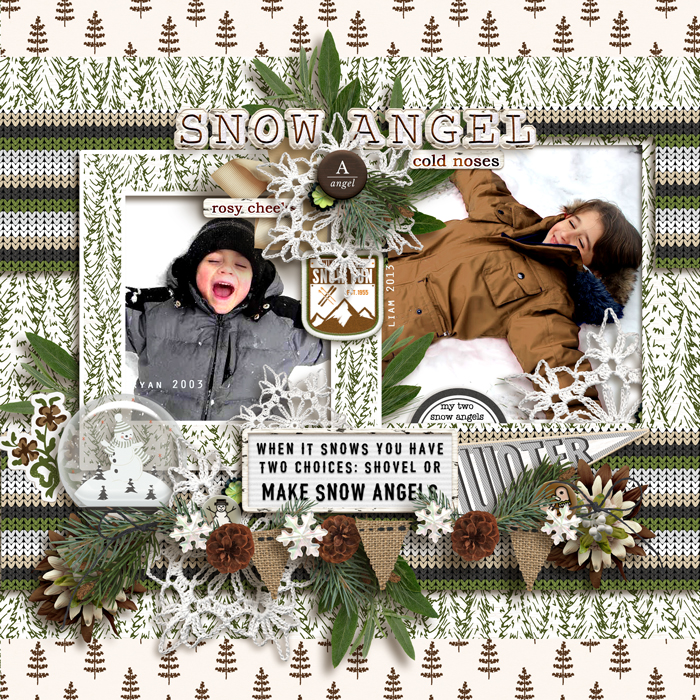 What do you think? Did you prefer one layout over the other? Drop a comment below and let me know!