It's summer vacation. The days are longer and our "to-do" list is happily shorter than the school year. And you would think I would have so much more time to scrap at this time of year- but I'm going to let you in on a secret: I have actually scrapped less during the summer than during the "crazy busy" times of the year.  And here's the ugly part: Lately, I just haven't been able to get the scrap-happy motor running.
It's a weird sort of feeling that goes something like this:  I will go through Pinterest or a few of my favorite scrapbooking galleries, get crazy inspired and say to my self- yes! I want to scrap lift that- or use that technique or those color combos.. but them when I try and get my self actually scrapping- I'm like, " Meh. Maybe I'll just do (insert some other activity here) instead."
Meh? MEH?? This is not my usual scrappy enthusiasm. And considering I am 3 weeks into July and haven't even wanted to get started on my June project life pages- and there are 4 kit club packs I have yet to even open- my malaise is now being compounded with guilt and that does not make for a happy scrapper.
So what's a girl to do?
I took a hard look at what was going on in my creative life and came to the following scrappy Jedi mind tricks:
Tune out.  It's not a good idea for me to look at galleries immediately before I scrap. For me, comparison is the thief of creativity.  Pinning and "liking" layouts in galleries is a terrific thing- it get me seeing things in a new way- and is definitely inspirational- I just cant do it right before I scrap. Unless I am following a specific technique that I'm unfamiliar with- like using gelatos or die cutting a specific way. But that's not creative as much as technical.
Focus on the stories you want to tell as opposed to the ones you should tell. When I tried to get motivated this weekend, I had yet to do the previous month's Project Life spread. It was a scrapping "to-do".  But considering I was in such a funk- the last thing I wanted to do was something I had to do. I'm a scrapping bad-girl-rebel I guess! Instead, I looked through my photos for the this month found one photo that I really wanted to tell a story about.  I decided I was just going to do that. Tell a story about this one photo. That made me happy- and started my engines.
Settle for a less than best layout.  I often fall into the trap of wanting to make the very best page possible. I can easily get lost in looking for the perfect papers and very best elements and choosing a perfect font… and there are so many choices… and then as I go through all my stash I start feeling guilty about all my stash…and  then I'm bummed and just don't feel the love anymore.
That's not fun. So, I really try and limit my choices. I will pull out one of my current monthly kits, or just speed choose a few papers and ellies and commit to using them.  When I say "speed choose" I mean I will look at the photos, consider the story and choose paper colors or designs that work with that- and here's the trick- stick with my first choice. No second guessing. This should not take more than 10 minutes. I will tell myself- yes- there may be a better way to pull this layout together- but I don't need to make my pages the best. I just need to be happy making them- and the quality will come from that.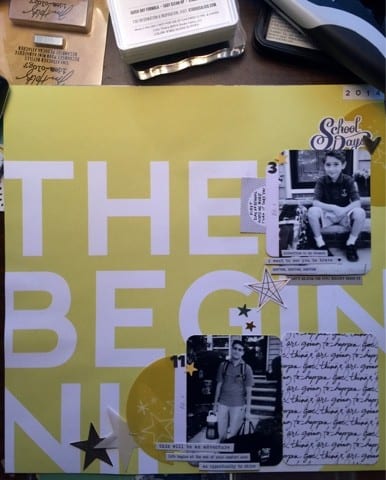 Organize supplies by color. It's a tip that I've really dedicated myself to this year- and I love the outcome. I organize my papers and journal cards by color.  It makes it so much easier to pull things together- because no matter what, you will always want your colors to coordinate. If you start with organizing supplies by color- you automatically narrow your choices.
While papers and journal cards are organized by color, I don't use that for my elements.  I use little boxes and lids to organize my ellies by type.  I found I will most often look for a certain type of ellie: a  label, or heart or star- and having them all in one place makes it easier to find.
Start scrapbooking by not scrapbooking. Ok- this is really going to let you see what a stubborn chick I can be. But sometimes, when I can't get up the drive to scrap- I go into my supplies and tidy them up. Organize, weed out things I don't like, dust off a few things. And there's one rule: no matter what- I am not allowed to scrap. I don't know why- but after organizing my stuff- and rediscovering my stash- I really want to scrap. And being forbidden to (how funny is that!) just makes me scrap more… most times, I'll be a bad girl and just do it!
Make a few mini kits with your stash.  While I'm going through my stash and tidying things up- sometimes Ill find some products that go together with a theme that I didn't know I had. I'll find a few ice cream themed items, or moon themed items, or good morning themed items- and it surprised me I have so many of one theme.  So, Ill collect them all together and place them in a 12×12 sleeve so I have a mini kit ready to go.  If I have stamps that go along with this theme, I will stamp a piece of paper with them and slip that paper in with the mini kit. Then, I wont forget to consider the stamp when making my layout.
Scrapbook without doing a single layout.  Sometimes, when I just cant get the drive up to scrap, taking a few baby steps towards an actual layout helps kick-start things, For instance, organizing my supplies, going through and editing my photo stream, tagging photos I'd like to work with, and going through galleries and pins.  Yes- I said before that that can be counter productive- but that's only when I do it as I sit down to scrap.  When I know I have no intention of scrapping on a certain day- it's a good thing for me to watch some process videos or comb through pin boards and galleries.
Remember- this is supposed to be fun.  I think the most important thing to remember is that everyone goes through a creative funk. And if after trying a few of these tips, I still get get myself to put ideas to paper- even though I kinda-sorta want to, the I let it be.  Sometimes, you need to disconnect to reconnect.  And then, when you do come back, you'll be recharged. And that energy is what makes for the very best pages!