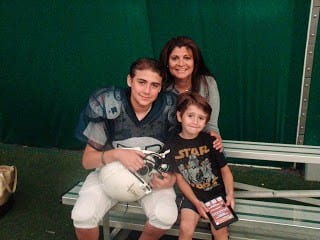 I get it.  After more than 4 decades on this earth as a type A competitive kinda- gal, I have finally embraced that it really isn't whether you win or lose the game… Sometimes just your effort makes you a winner.
My oldest boy Ryan is trying out for his high school football team later in the month.  Ryan is an amazing kid- I would get a kick out of him even if he weren't part of my pack.  He's smart, sensitive, witty as all heck and has a quiet determination that never fails to amaze me.  A "jock" however….meh.  Not so much.  We've tried almost every sport with him…. baseball, soccer, basketball, swimming, horseback riding, karate…he played. And had some fun, and never quit… but nothing ever really got him.
I really believe each of us has to find that one thing that you enjoy doing so much that you lose track of time doing it…you love it- love doing it, and love getting better at doing it.   It could be sports, drama, writing, art, um…scrapbooking!…. solving puzzles…whatever- but when you find that "thing"- it's just amazing!  For awhile, Ryan really enjoyed acting.  He was great at it- and put alot of work into it.  He would amaze me by memorizing pages of script just before an audition.  He got to play a few roles on film- and was so professional and unflappable- I really felt my heart swell with pride.  It was his thing— and that was good.
But this year, Ryan decided to make a go of football.  He has been training non-stop since May. To get ready, he signed up for a tackle camp earlier this month- which must have been one of the hardest things he ever had to do. He had to spend a week with 300 kids who were all much better than him- most of which had been playing football since they were 8 years old.  He had to expose his novice, and line up for the physical and literal hits that came along with that.  That's not easy for anyone, nonetheless a teenage boy. He had to get knocked down, learn from it and then get back up and do it better.  8 hours a day- for a week.  He didn't want to go some days… but got dressed, sucked it up and did it.  And each day, I was there on the side lines, watching as he worked through these growing pains.
You know I wanted to run down on that field very time he got hit, or missed a play.  My boy.  This was my boy and I wanted to make it better.  I wanted to push fast forward and get him though this already.  But there are no controls on our days and lessons, and all I could do is cheer, offer the best advise and encouragement i could during his breaks and give him big secret hugs when we were out of site of the other kids…. he hugged me back hard.  That's how I knew he was really having growing pains.  I didn't want to let go.  It really hurt to let go and watch him run out on the field and try again.
On the third day- he caught his first long pass…. his first ever!! I woooted BIG and the just cried. There was a 300 pound manly man of a big old football dad next to me that had been watching Ryan play against his son (who was an amazing athlete) and even he wooted! "THAT's the way!  THAT's it!  He'll be OK mama- you'll see- your boy's just got a bit bigger out there.  See that? He's grown up right there!"  I know it felt darn good to catch that ball.  And that's what kept him going.  The encouragement from his coaches and teammates…. the tangible and incomparable feeling of accomplishment that was the direct result of his own independent hard work….
I don't know if he'll make the team or if he'll ever be described as a jock.  I do know he is so proud of the work he has been doing to get to the tryouts… and I am so very proud of him.  Win or lose…. the way he has played this game has changed the way I see him.  His dedication, responsibly, good humor and determination…  yes, he is still my little boy, but I can see the young man in him now.  And he is a winner.