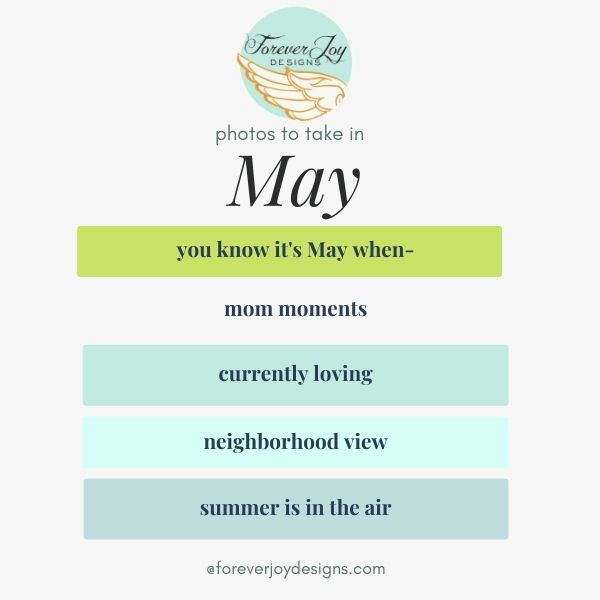 Spring is in full bloom and Summer is in the air! There's so much to love about May- especially the anticipation of all that a new season has to offer- all that "may" be…
Here are the photo prompts I'll be using this month- and as always- you're invited to play along! Five photos a month that have a special meaning to you = 60 easy to pull together scrapbooking layouts by the end of the year!
You know it's May when: For me, it's when my Lilac Tree starts blooming. I live in NYC , but have worked really hard to make my little backyard an escape to the "county" and my Lilac Tree always kicks off Spring with an amazing show of colors and perfume! The rest of the yard needs a lot of work – but- this makes me remember why it's all worth it!
Mom Moments: The sweet ways my boys treat me is really my favorite thing about Mother's day.  From when they were little and would go to the school bazars and collect trinkets that say "mom"- (that still hold a place of honor on my bedroom dresser)- to the funny gifts they surprise me with now- it's a happy place for sure!
Currently Loving: Weekend trips to the Farmers market have started again this month- and I love collecting fresh breads and cheeses to use in a new recipe! Everyone is always happy at the Farmers Market- have you noticed? It's one of my favorite ways to kick off the weekend!
Neighborhood View: My neighborhood used to have Azalea growing contests in the 50's – and even though many of those owners have moved- the bushes still remain and they are awesome! Wild shades of Pinks and dainty whites pop in front of almost every house! We also have something I like to call a "Spring Snow" in the beginning of May- the pear trees pop with tiny white flowers for about 4 days and then, all at once, and at the very same time, they all flutter off- and it looks like snow! It's magical to be able to catch it!
Summer is in the Air: Several times in May we catch a blast of heat and it is the call to bring down the Summer clothes and pack up the sweaters! Hello flip flops! Hello shorts and swim suits- will you still fit me? LOL! The changing of the guard is a messy affair and my bedroom is a wreck with piles of clothes- but a little Marie Kondo and the promise of takeout for dinner makes it a little easier of a mountain to climb!
So- those are the photos I will bookmark to take this month- how about you? Are there milestones (big or small) you want to make note of so you can push pause and collect them?
Here's hoping May is a good one for you!
Be happy for this moment. This moment is your life.

Omar Khayyam