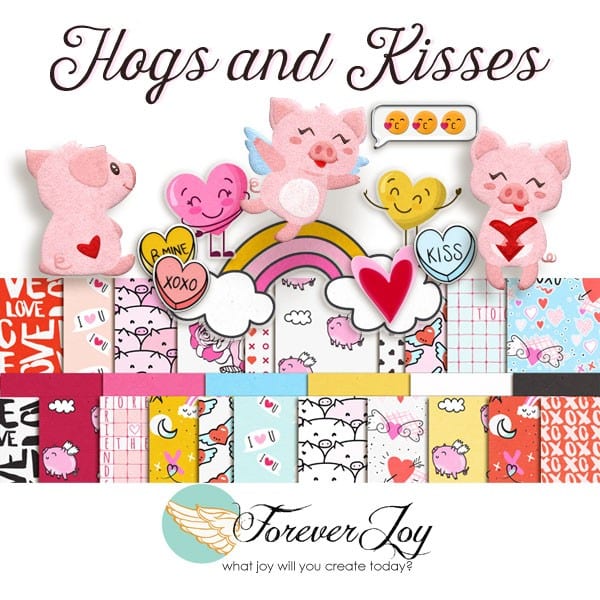 Designed to celebrate all the things you love more than bacon- Hogs and Kisses is the new design in the Love Shop at ForeverJoy! The moment these sweet little piggies came to life on my drawing board- it was love at first sight! They found a home in this mini Valentines digital scrapbooking kit – which is big on them and small on the budget! You can add it to your collection by shopping here in my personal shop and add points to your account- or you can shop at the Lilypad- it's your choice! And – as a bonus!- there is a lovefest going on in the ForeverJoy shop this weekend- all things love are 30% off through February 17th, 2020! 
Here's a closer look at the new design!
Inside you'll find: 12 patterned papers in alternate colors and 6 solids (a total of 32 papers in all!) and a variety of love themed pretties including 3 love struck piggies, 3 felt banners, a fun variety of valentines and hearts in stickers, rubber and painted format, a rainbow and happy cloud sticker, love coupons, 5 rubber flairs, 3 silk flowers, a little green leaf, a wood frame, 10 word snips (in 2 formats each), 2 ribbons, 1 striped bow, 4 labels, a love letter, enamel pin styled emoji messages, 2 rubber stars, a flying pig tag, love glasses, and 5 pieces of Word Art.