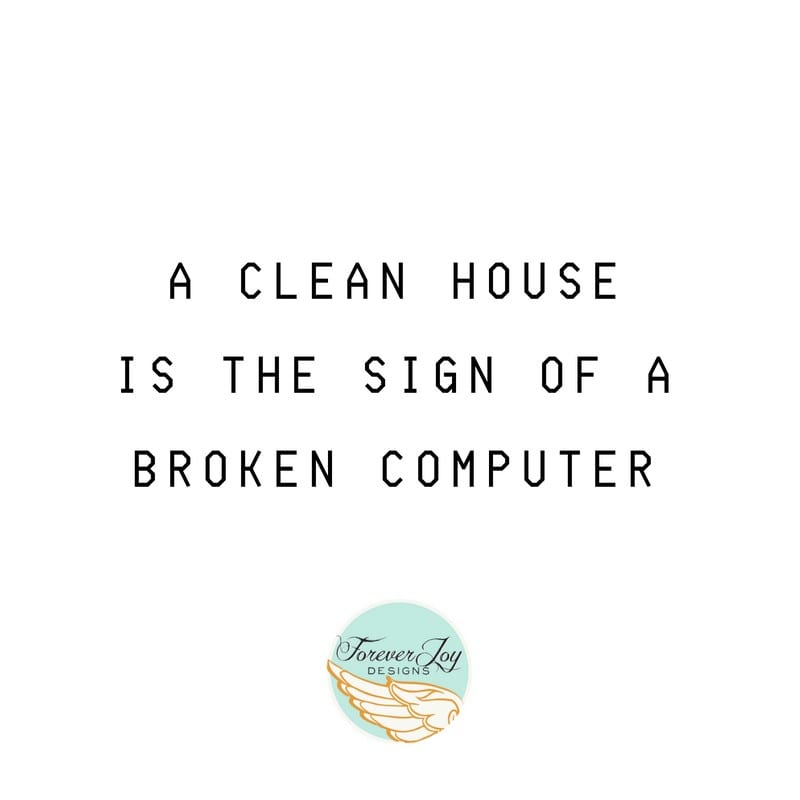 So, it happened. My hard drive got fried- and seriously- I had no warning until about a day before it happened. I noticed that my programs were running sluggish- that files took forever to load- and things in general seemed a little "off".  I went to bed that evening- leaving my computer on- and woke up to a blue screen.
I wound up buying a new computer because it was time. I just didn't want that bill right now.  And I wasn't ready for this forced "time out"- though my house has not been this clean since the Graduation party of 2012! So there's that.
There were a few safety nets I put in place after my last crash a few years ago that made life so much easier this time around that I really want to share with you. So much so that this post is the very first thing I did now that I am up and running. The hassle of reinstalling  is never going to go away- but that fear of oh my goodness what have I lost can be lessened. Here's what worked for me:
*And just a heads up- I have linked a few tips-but not for any affiliate reasons or because I get compensation- just to make life easier. These things worked for me. Maybe they will hep you too!
Google Photos. I use the free version- because lets face it- I'm not going to be working with RAW files anytime soon or making posters of my pictures. 16×12 is pretty much as big as I go- and the free version of Google Photos works just fine for that. All my photos- phone and computer are automatically backed up on the cloud. So- when my computer crashed- at least I didn't have that horrible pit in my stomach of OH NO! MY PHOTOS! I knew I was covered.
BackBlaze: I pay for this each year- and it is money well spent for sure.  All my files are backed up and stored everyday- and they stay on their cloud for 30 days after a computer is off.  I don't know how it compares to other programs- but for me, the price is reasonable and they have had my back through two crashes.   I download my files manually as opposed to paying for a disk. It took about 3 days for almost 1TB of data to be reinstalled- but I got to make sure nothing was overlooked.
*This is also why I didn't pay to have a tech do a data transfer.  I wanted to be sure if a file name was too long, I could rename it and download as opposed to trusting someone else not to skip over downloading it.
Belarc:  after my last crash I ran the free scan on my computer and got every. single. program and registry code on my computer in a nice PDF that I printed out and tucked away for a rainy day.  So- when the storm rolled in- and I needed to reinstall my programs- I had everything I needed. It even logged previous versions of programs I upgraded from- which was super helpful when prompted for upgrade reinstall.
The only programs I have not been able to re-install as of today are ACDSee  and Filter Forge.  I found a great substitute for ACDSee- (XnView) and since I really only used it for quick file viewing and batch renames, and I haven't used Filter Forge in years. So- I'm ready to move on.
MainType:  As you can imagine- I have a bunch of fonts- and managing and installing them is an important part of my workflow.  I always keep a separate folder on my desktop of all the fonts I download.  This way- It gets backed up by Back Blaze.  Previously I used Nexus Font- but it has been discontinued- and I was wary of downloading an older version because there's so much malware out there.
I found  MainType and was able to reinstall all the fonts I had previously downloaded for projects them to my default Font folder (and weed out fonts I never use, like Papyrus and Jokerman) in a very user friendly way using this program.  It's free but because I loved it so much- I made a donation to the author. You know- for Karma's sake.
Also- I use DropBox paid (about 10 bucks a month) and I have an EHD for all my personal scrapping projects – these provide just an extra bit of peace of mind. In all, I'd say I pay about 100 a year for backup- but it's well worth it.  You know how the saying goes: if it's not backed up in 3 places, it's not backed up.
If all you take away from this is Google Photos and Belarc- you'd be in a pretty good place for your photos and programs.  But seriously- if your reading this- consider it a sign: back up the files that are important to you.
If you have any tips to share- or things that helped keep you sane in a crash- please! Share them here! There's always something new to learn!
This weekend I will be trying to catch up on the design i was in the middle of before the crash. It's a funny one- and I need a few laughs after the week of grind I've had! Later!
Renne