You can be sure that one of my most favorite things to scrap are photos of my boys and their school days. The friends, the events, the milestones, the first-day | last-day photos- I must have thousands of photos of their school days. And tens of thousands of pictures of their childhood.
But- the amount of photos of my childhood?  – less than a shoebox or two full. And my mom loved taking photos! School photos? There are less than 30. Pretty sad.
And while I can't turn back time to stock the albums full of more photos- I can time travel! No need for a DeLorean or any weird science. It's pretty simple- and I can show you how to do the same! Are you ready? Step 1: connect to the internet.  Step 2: search.
For example- I found a photo of 4th grade me.  I wanted to tell a story about my school days.  But- I don't have a single photo of the outside of my grammar school. No worries! With the help of Google, I found several! I also found photos of my childhood church, and pretty much every fad, style, toy, movie, TV show- gosh! everything that was important to me growing up!  I have been collecting these images on a Pinboard and regularly draw on the "memory bank" when I want to scrap pages about younger me. Here is my Pinboard of the 70s-80s randomness that made up my little world in Brooklyn, NY.
And as a bonus- the more I click around, searching for bricks top pave memory lane- the more little stories I remember! This layout all started by looking for a photo of my old school. But as I got lost in the nostalgia, I found images of all the things I loved playing with when I was in 4th grade. I don't have a single photo of me with any of these things- but I found I didn't need them to tell the story and bring back the feelings I wanted to in my layouts.  The photo of the object itself was enough.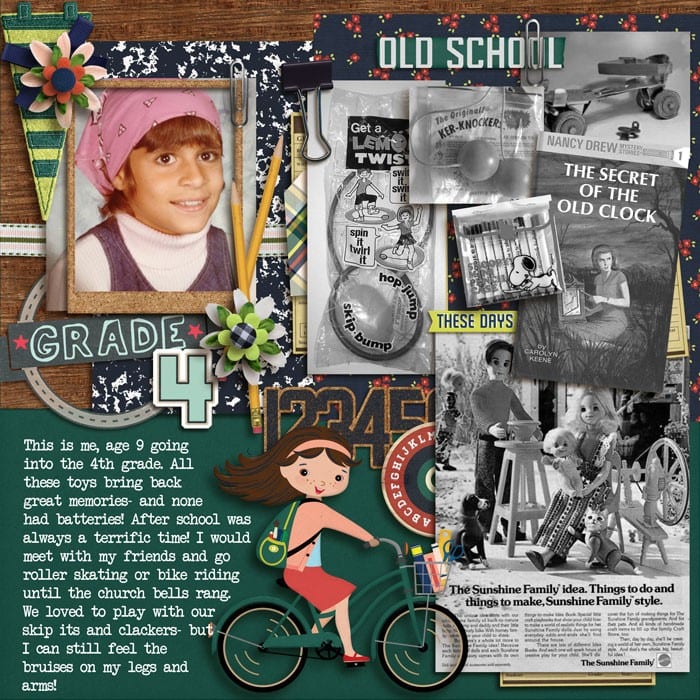 *supplies used: A is for Autumn Digital Scrapbooking Kit
Here's my just-for-fun challenge to you- think of something you wish you had a photo of from your childhood. Then- go find it online!  Finally, go tell the story that's behind the photo. That's what will make the magic.  The words. The words you would speak to a friend explain why you took the time to find the photo. Why it makes you smile. Why this one thing was once so very special to you. That layout is now a time capsule, it's a piece of the puzzle of what makes you happy- and I promise you- even if all you have is that photo and your story- it will be one of your most favorite layouts.  That is what we call "crafting the joy".