I LOVE cooking- and for about 2 years, when my older son Ryan was first born, I took a break from my criminal law practice and went into catering. (My family has long been in the restaurant business) Fun fact: During that time, I got my mom and dad a surprise wedding on Food network! (you can see it here!)
There's not many a recipe I can't recreate- and Sundays are often spent in the kitchen happily cooking. But baking? Nope.  No can do. Mama just is not a baker.
So what's a girl to do when there's a bake sale at school and goodies to be made? 
Bring on the melted chocolate and go dipping!
Since we are celebrating the little joys of Thanksgiving- I thought this would be a fun idea I first came across on Pinterest to share with you. They are adorable treats for school or the kiddie table on Turkey day- or would even make cool placeholders! And they are so easy and fun to make!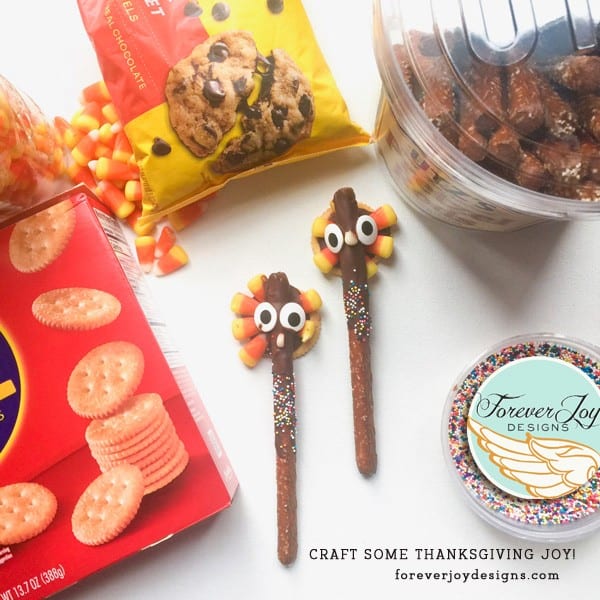 Here are the ingredients I used:
UTZ Pretzel rods (The ones in the cylinder container- a little more expensive than the bagged ones but they are all perfect. No broken ones!)
Melting chocolate- (whatever kind you'd like- I simply melted nestle chocolate chips.)
Ritz (or round) Crackers
Candy Corn
Sprinkles
Candy google eyes. (They need to be edible because- well, safety!)
Paper plates
Parchment paper
I made an assembly line of the ingredients before I began- and lined a few paper plates with the parchment paper. You will place the Turkey Sticks on these to chill and harden in the fridge.
Then- it was pretty easy:
Melt the chocolate
Spoon melted chocolate on the top of a cracker
Place the cracker on the parchment lined paper plate
Place the candy corns in a pattern like a turkey tail on the cracker. Let go of the urge to make it perfect.
Next, spoon melted chocolate on the pretzel stick. Don't dip- you'll use up too much chocolate-
Place the chocolate covered pretzel on top of the "tail" cracker
Add google eyes to the pretzel stick
Clip the white tip off a candy corn and use it as a beak.  Eat the remaining part of the candy corn.
Add sprinkles to the pretzel stick if you'd like.
Chill for about 30 minutes.
Once they are set, you can stack them in a container and save them to gobble up later! 🙂
Like it? Let me know ion the comments! And be sure to check out other Thanksgiving JOY posts here on the blog now thru November 27th, 2019.
A few other ways to stay connected:
Sign up for the ForeverJoy newsletter here
join other joymakers in my Facebook Fan Group here
Follow me on Instagram here