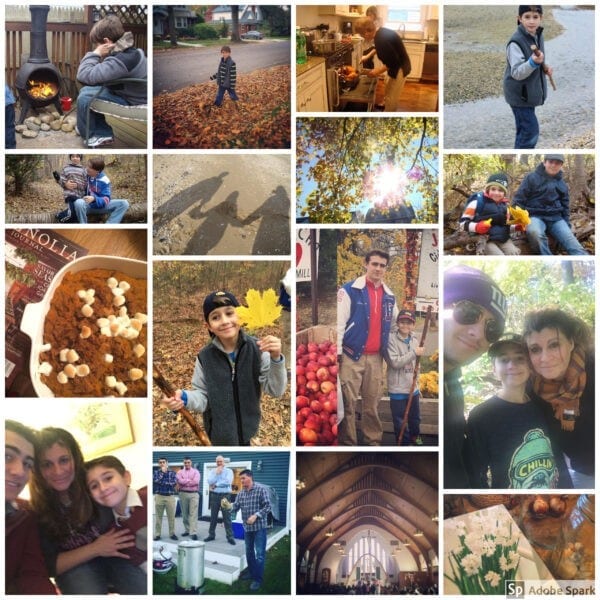 I recently read a terrific article about the joy of anticipation.  It brought to mind a wisdom I try to live by- the joy of the ride is just as important as the thrill of the destination. It struck me that this month, November, is a journey and a destination all wrapped in one beautiful, delicious and humbling package.
There's no doubt that the anticipation and excitement of Christmas time is woven in the scenery around us. You can't go into a store or turn on a television or radio without being reminded of the fact that Christmas is almost here. And I've decided that this year, instead of being grumpy about it – I was going to spin the holiday frenzy in a way to make it work with keeping the spirit of Thanksgiving as well.
This year instead of hiding from the Christmas season- I decided to repackage that barrage into a feeling of anticipation.  It's not Christmastime here yet– but- we have started to look forward to it. Build the anticipation. We are making our list of the Random Acts of Kindness we hope to do.  We are looking at the upcoming local events and filling the December calendar so there's no last minute frenzy of finding something "fun" to do. Soon we will do a big fall cleaning to get the house ready for where the biggest and bestest tree we have ever gotten will go- and I have to admit- the planning and dreaming and imagining of the season to come has been fun!
But- I am working hard to keep us grounded in the now as we look forward to the season to come. 
This year- the day after Halloween- I decorated as much as I could for Thanksgiving. It was kind of like "autumnal-harvest theme- 2.0- because let's face it – there's only so much Turkey and Pilgrim motif a home can hold.  There are Turkey cut outs on my front door, autumnal flowers, a few plaid pillow cases and cinnamon-apple scented candles everywhere.
The boys haven't outgrown going on leaf hunts and ironing  the prettiest ones between wax paper to make place-mats- as well as  collecting as many acorns as we can find in our yard to collect, paint and gather  in a big bowl.
We have started the tradition of a Thankful Jar this year- each night before dinner the boys write out on a little slip of paper something they are thankful for or a blessing in their life they recognize. On Thanksgiving morning, as we have breakfast and watch the parade (followed of course by March of the Wooden Soldiers) , I thought we could read these out loud- as a way to start of the day will full hearts.
There are a few other things I hope to do this Thanksgiving season- and I thought I'd share them with you-
Go on our annual "Turkey Hunt" where we hike at Sagamaore Hill with turkey call and wait for the wild turkeys to come out and chase us down as we run away half in fear and half laughing our heads off.
make one last trip to the cider mill to gather apples to make a pie
play a game of Frisbee in big leaf piles
take a weekend drive to see all the awesome colors on the trees
roast a few mini hot dogs outside over the fireplace
plant the paper whites to bloom in December
go on a fall picnic with thermoses of Chili and bags of Fritos
Take a family photo– we never seem to get a good one at Christmas- but the lighting and colors of the fall make it a sure fire way to snap a good shot with a terrific background. (to read some tips on taking great photos on the BIG day- you can check out my post here) 
bring coats to the local homeless shelter
donate to the food pantry
Take the time to talk with the veterans selling poppies for Veteran's Day- bring them cocoa and donate a little extra for our poppies. I still remember a special moment we shared with an older Veteran that I wrote about here.)
sort through old family photos and "remember when"
make a few Thanksgiving crafts– hand turkeys forever! to decoate the refrigerator with'
Have a decadent dinner of French Toast, and Hot Chocolate
and- what's better than a cozy movie night with popcorn? Here are a few feel-good as well as just plain fun movies that are great for this time of year-
A Charlie Brown Thanksgiving
Jim Henson's Turkey Hollow
Addams Family Values
Lion
Free Birds
Heidi
Pocahontas
Grumpy Old Men
Winnie the Pooh – a Season of Giving
The Blind Side
Remember the Titans
It's a Wonderful Life
Here's hoping you get to be present in the joys of right now while preparing for the magic of the season to come! If you have any ways you keep the spirit of this month- share! Just leave a comment below!