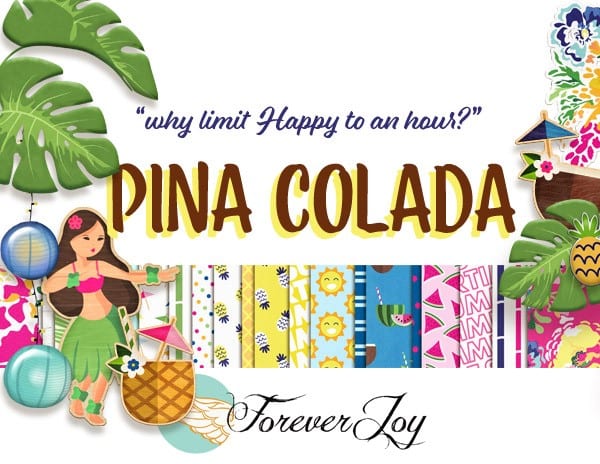 Here's how I see it- yes- friends and family- awesome eats, jammin' soundtracks, fun decorations and a few cocktails all help for setting the stage for a great time- but truly, all you really need to make a party is a happy attitude! 
PINA COLADA celebrates that happy mood- and was designed to bring the party to whatever stories you decide to tell! It's filled with sunny tropical patterns, balloons, frozen drinks, pineapples, watermelons, banners, party lights, good music and fun word art designed to prompt your storytelling.
During the weekend, you'll find the papers and pretties separately in my shop as part of the July BYOC digital scrapbooking collection at the Lilypad – and you can enjoy Buy More Save More savings- but I've given my fans another way to save as well!  I always try to make sure new releases are the very best value I can give you – so this weekend you can enjoy Early Bird shopping on the kit- and purchase the pieces together as a kit at 30% off this weekend only!  Just click here  * Please note that this offer can no be combined with any other offers, such as the BYOC buy more- save more offer.