We are set to start school in just a few days- the calendars and schedules have been updated, new school shoes are under each boy's bed and the backpacks are packed with new supplies are ready to carry my guys into a new school year.  7th grade and Junior year college. *Deep breath.*
The one thing that makes saying goodbye to summer easier- is saying hello the the most wonderful time of the year- the "-bers" September– October– Novemeber and December! YAY!
Because this time of year can get so busy- I like to make a little bucket list for each month to help keep the fun in focus.  Monthly bucket lists help ground me in the present- especially since I can get easily caught up in planning so much for the future that I can lose sight of the awesome moment I am in right now.
Looking at my list for September- I can't help but laugh at how much revolves around food LOL! But hey! We have to eat- so why not make it fun? It's kind of like a free way to celebrate– since I would be grocery shopping anyway.  Season foods are just such an easy way to bring a little magic to the day. And there are just certain tastes that go hand in hand with each chapter of the year- don't you think?
September for me is filled with Friday Night football for the little guy- Liam, and Saturday rugby games for the big guy- Ryan.  It's a month full of back to school meetings and play-dates to reconnect Liam with his friends after the summer. September is also the month we pack away the summer stuff of life, and start to layer up for the Autumn.  It's also busy month at my drawing board getting new products ready for the months of memories ahead.
So- it's important to write down the fun things I want to do. That makes them a priority, and keeps them on my radar. After all- life is what happens when you are busy making other plans!
Here is my bucket list of food and fun for this month: *if you'd like to download this list- just click here or on the image below!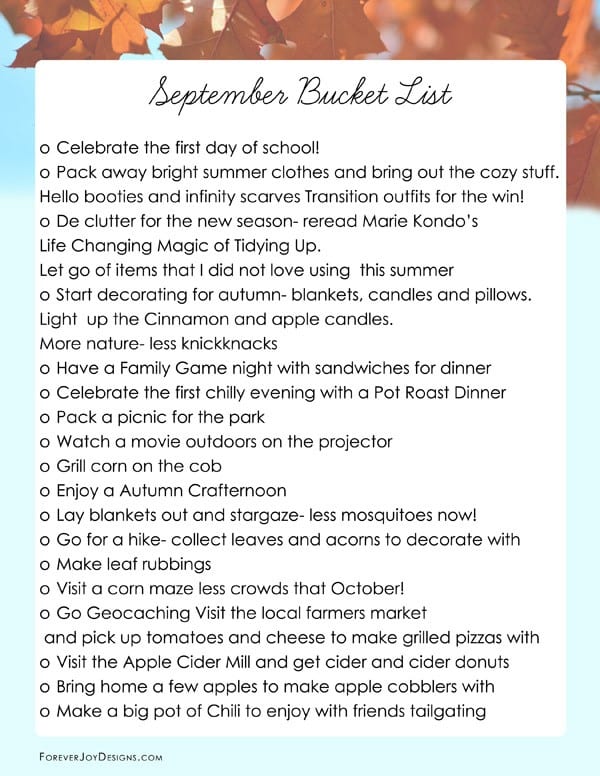 Celebrate the first day of school!
Pack away bright summer clothes and bring out the cozy stuff.
Hello booties and infinity scarves Transition outfits for the win!
De clutter for the new season- reread Marie Kondo's Life Changing
Magic of Tidying Up. Let go of items that I did not love using
this summer
Start decorating for autumn- blankets, candles and pillows. Light
up the Cinnamon and apple candles. More nature- less knickknacks
Have a Family Game night with sandwiches for dinner
Celebrate the first chilly evening with a Pot Roast Dinner
Pack a picnic for the park
Watch a movie outdoors on the projector
Grill corn on the cob
Enjoy a Autumn Crafternoon
Lay blankets out and stargaze- less mosquitoes now!
Go for a hike- collect leaves and acorns to decorate with
Make leaf rubbings
Visit a corn maze less crowds that October!
Go Geocaching
Visit the local farmers market and pick up tomatoes and cheese
to make grilled pizzas with
Visit the Apple Cider Mill and get cider and cider donuts
Bring home a few apples to make apple cobblers with
Make a big pot of Chili to enjoy with friends tailgating
Do you have a fun way to celebrate September? I am always on the lookout for new ways to mark the seasons with my family- so share yours in the comment section below!
Happy September!