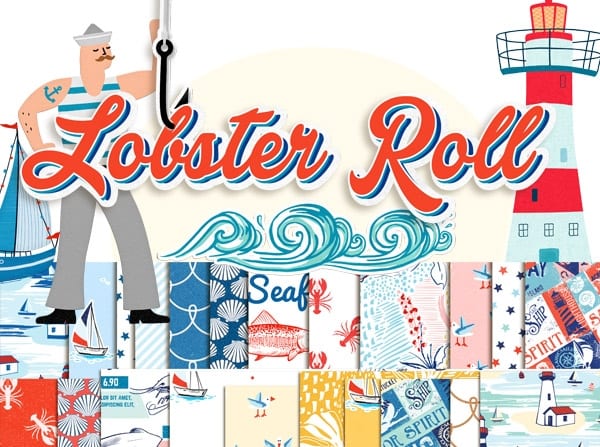 Summer fun for my crew  always involves water-  and luckily- with some mental gymnastics- we are having a terrific summer together at home! These Dog Days have definitely taken a slower pace this year- and the "big event" each day is going to the backyard pool, grilling up some dinner and then hanging by the outdoor fire or playing corn-hole after some Netflix.  Silver lining days for sure!  It's kind of like the days when the boys were little and content to have a kiddie pool and a fresh jar of bubbles. Simple fun. My guys love when I score some fresh catch seafood from our local Stew Leonard's- lobster tails go for as little as 4.99- and a bag of clams costs next to nothing! Truth told- if we catch the right sales- a seafood dinner can cost less that pizza night!
That Fresh Catch of the day, water loving vibe punned it's way onto my drawing board for the new fun summer design- LOBSTER ROLL. 
I loved how the burlap signs and veneer pennants came out- and don't get me started on that Nauti Sailor!  It's packed with lots of good stuff- and I can't wait to share the layouts the Creative Team and I will be making with it this weekend! *It's on sale for just 4.79 today through Monday July 20, 2020. You can check it out [here]. 
Lobster Roll Mini Page Kit
Inside you'll find a total of 32 papers ( 12 patterns with alternates and 6 bonus solids) and a themed collection of elements that tell the story of your clawsome and nauti adventures!  You'll find lobsters, crabs, seashells, coral, boats, waves, chairs to chillax in, a hunky sailor,3 cool burlap banners, 3 themed pennants, 3 buttons, a lobster painted bike, a picnic basket and blanket, life preservers, a captain's wheel and lighthouse, a captain's hat, 5 rubber flairs, 12 rubber words snips colored 2 ways, 4 flairs, a bit of string and a bow, 3 silk flowers, 4 labels and more For a total of over 80 pieces!