I live in the Northeast- Long Island New York to be exact.  That means we have 4 very distinct seasons of weather- and each of these look very different from each other. 
While September may be thought of as "autumn" and Lord knows I pull out the sweaters, plaids and booties as soon as I turn that calendar page- it's actually pretty warm here.  The joke is, that despite what you see on Instagram, you go can apple picking in shorts and a t shirt!  All those girls in cozy sweaters and boots are cranky and way overheated!
October is when Autumn really kicks in.  It's a colorful rush of all things Autumn- and between the happy magic of Halloween and the pumpkins and colorful leaves, and awesome crisp weather- it truly is one of my favorite times of the year.
November to me has always been the homey calm before the awesome colorful storm of the Holidays.  We layer up the furniture with knit tweed throw blankets, enjoy slow cooked stews and pot pies and collect acorns and fallen leaves. My house is decorated in black and white check layered with denim and burt orange- and fall scented candles are lit as we settle in together after dinner to watch a movie with a big bowl of popcorn.
And of course- there is Thanksgiving. Although it comes at the end of the month- it sets the vibe for the weeks before it.  November has become a month to take stock, to be present in what you have and realize how very much it is.  To recognize that we once prayed for the very things we have right now at this very moment.
Of course that doesn't mean I go around like a blind Pollyanna- thinking there is nothing that needs fixing in this life of mine– but I think you can be thankful and hopeful and joyful and maybe even a bit down all at the same time.  Each of those emotions balances out the other- and keeps us moving forward.
This year, more than ever, I felt as if the whole world went crazy and the moment we blew out the candles in our Halloween jack-o-lanterns, it was Christmas time! And of course I look forward to the Christmas season- and am preparing and saving and dreaming of it way before the calendar page turns to December- but I feel as if there has been a crazy drive to start spending now- start asking for things you want now, start decorating for Christmas now- and all at the expense of ignoring the November moments we are in right now.
Look, of course I have already begun a few Christmas designs- and I have been pinning merry ideas like crazy- but- I think it's really important to push back a little and be sure not to forget that November has it's own very special joys. 
I believe that as the joymakers in our homes, we are the ones responsible for the beat our families dance to. If we put up the silly paper turkeys and bowls of gourds and the "thankful trees", if we bring attention back to Thanksgiving while still anticipating Christmas- then our families will also get to enjoy the season we are in at this moment- and perhaps fill their hearts with thanks and gratitude to help balance out the upcoming wants that come with Christmas lists and holiday shopping sprees.
So- for the next few days, before we jump into the holidays- I'll be focusing on November and Thanksgiving.  Does that mean there will be no sales or deals? Heck no!  This isn't a punishment, LOL! But you know what? To make things a little less stressful- I'm going to give you a heads up on the sales I will be offering this month: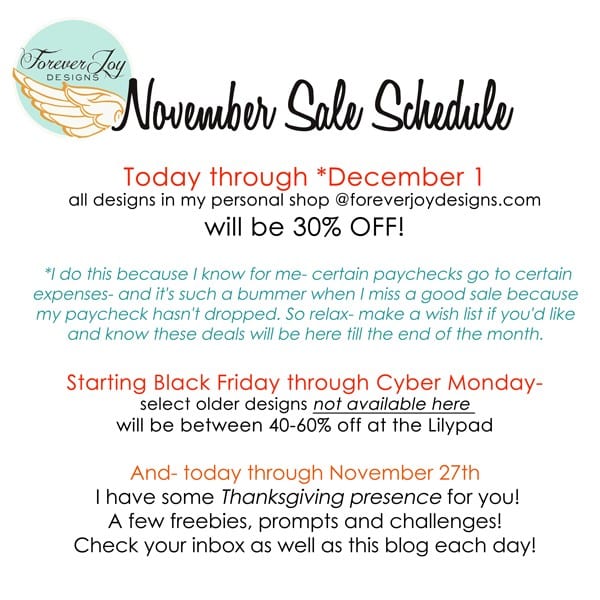 A few ways to stay connected:
Sign up for the ForeverJoy newsletter here
join other joymakers in my Facebook Fan Group here
Follow me on Instagram here

So, that's it! That's what these next few days will be about!  I hope to see you back here- and if you are a newsletter subscriber- I'll be sending out another little "present" soon- just for you guys to say THANK YOU for inviting me to your inbox!
Here's a little something to get us all in the Holiday spirit! Just click on the image and the download should be  super fast and automatic. And- if you enjoy this download- please take a moment to leave some love in the comment section!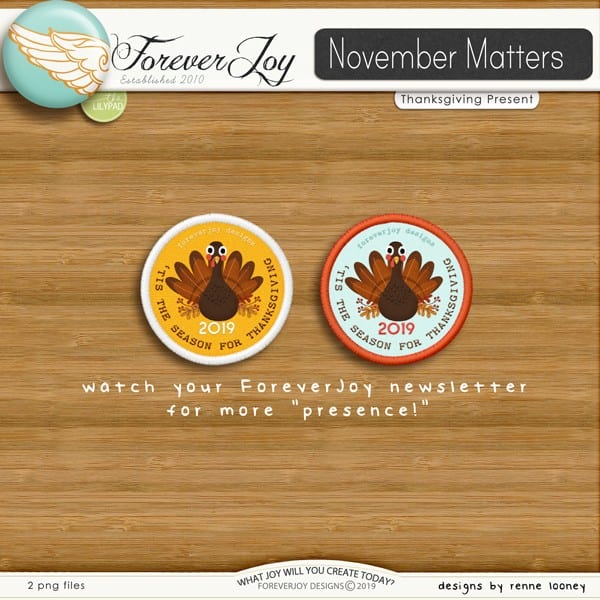 [download here]
All Thanksgiving Presence downloads are available thru Dec. 1, 2019