Yesterday was Mothers Day – and my boys (14 and 22) indulged me with a little trip down memory lane and looked through a few older scrapbooks with me. We laughed together at the photos of how little they were and shared a little nostalgia the remember when's. It was a good day.
When they went to bed- I found myself scrolling through my photos. Flipping my finger up and up- searching for photos that captured the magic of these times they way I had been able to back then.  They were all to few and far between. I had a ton of photos of the two of them side by side- smiling at me- but so many seemed to be lacking something- 
Then it struck me.  Look at these two photos-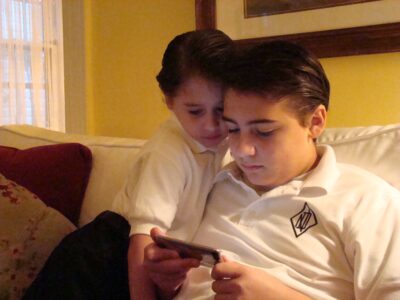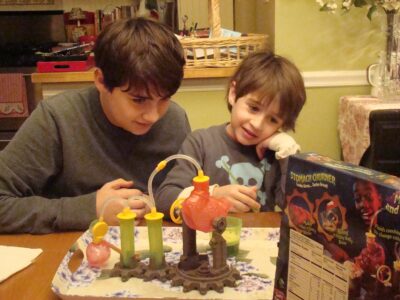 Obviously not the best in terms of lighting and exposure- but to me- they tell a heart-full. I see a big brother caring for his little brother.  I see them connecting.  I see the things that are capturing their imaginations- I can actually feel the photos. They are candids and they are powerful.
These days- because they are so reluctant to take photos, I find more and more selfies or quick posed photos of the boys (taken after a little guilt trip from me) filling my photo stream.
It took awhile to get to a photo that made me really stop and feel the moment in my recent stream- and it was this one: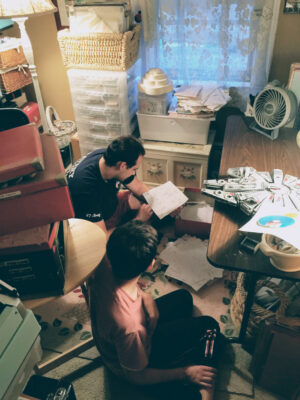 It was the day we were clearing out Liam's bedroom for a paint job and his boxes and Lego models were stacked in my craft room.  They found a box of old school projects and were laughing at them together. No posing- no adjustments, you can't even see their faces- but I can feel it. I can hear their chatter- their laughter and I can feel the magic.
This is something they have not outgrown- and this is something I need to capture more of.
Pro tip: With my phone I silent- they won't even know I'm doing it! 
Even though I have my phone camera with me, I have slipped from taking spontaneous photos of the moment- and it's something I need to refocus on if I am going to capture the genuine stories of these days together. 
I am going to revisit the "Day in a Life" and Week in the Life" projects I have done in the past with Ali Edwards to help reset my focus. If you have not read her posts on this- you really should take a few moments to visit her blog or watch her videos. She never fails to inspire and teach.
"Be happy for this moment, for this moment is your life." Omar Khayyam
I encourage you to take a few less posed photos and a few more candids. They may be spontaneous- but they are also purposeful.  They are powerful. They are our days. You need to plan ahead to be a little more present in the moment- and then snap to  save that moment forever.