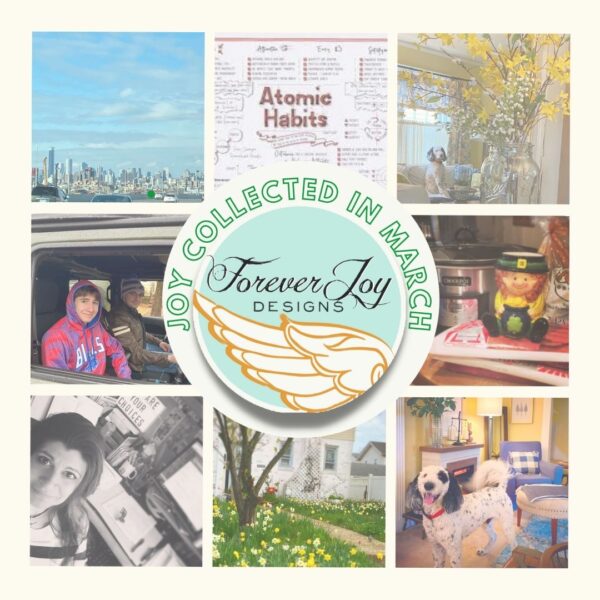 We just wrapped up March Madness here at ForeverJoy – and it had nothing to do with basketball!  We kicked off Spring with new designs, surprise newsletter freebies, flash sales, spotlight kits and celebrated lots of little joys like Dr. Seuss' Day, Puppy Day – the first of of Spring and St. Paddy's Day! (that's a lot of little things!) 
As always- we started the month with 5 photo prompts! I'm glad I had these in mind because truth told- the month went by pretty quickly- and I didn't have as many photos as I had hoped- too many screenshots- not enough real life pixs. But– I did try and hit the prompts – so I have 5 little stories ready to be told! Here they are:
Currently reading: James Clear's Atomic Habits. This has me happy not only because it's a terrific book packed with inspiration and awesome tips- but also (and maybe more importantly?) I'm really proud I swapped out scrolling on my phone before bed for reading! I finished a book and started a new habit! yay me!
Mornings look like this: I mixed things up a bit and took a selfie at my desk. I don't take enough pix of my work life – maybe because to me it seems like it's all contained in a little rectangle on my desk- but actually- it's so much more. It's inspiration, mood boards, song lyrics, drafts, sketches- planners and me! But- this little desk is pretty much my view each morning- and I'm glad I got a photo of me + it happy together!
I know it's March when I see this: I have two photos for this! First- March means Corned Beef dinners for my family!  I put 2 huge ones in the Crockpot with a large can of Fosters and potatoes, carrots and celery and cook on low for about 7 hours! It's heaven!  The second? Daffodils! ! I love the sight of the hundreds that bloom down the block from me! This means that winter is officially gone and Spring is in the air!  I shared a little about how special this for me in my Instagram post here
Lucky me! I have this: Are you surprised to see pictures of my boys and my pup? (Hubby too- but I didn't have a great photo of him this month- I'll have to make it a point to do that next month!)
Signs of Spring: Yellow forsythia branches and crisp blue skies are the calling cards of Spring here in NYC- even if it's still 35 degrees and the heat is on- you can officially call it Spring when the skies get that extra bit of clarity and the highways are lined with beautiful mounds of yellow!
There was lot's of #joycreated this month by you too! Here's a look at a few of the stories we told together in March- thank you so much for letting me be a part of them!