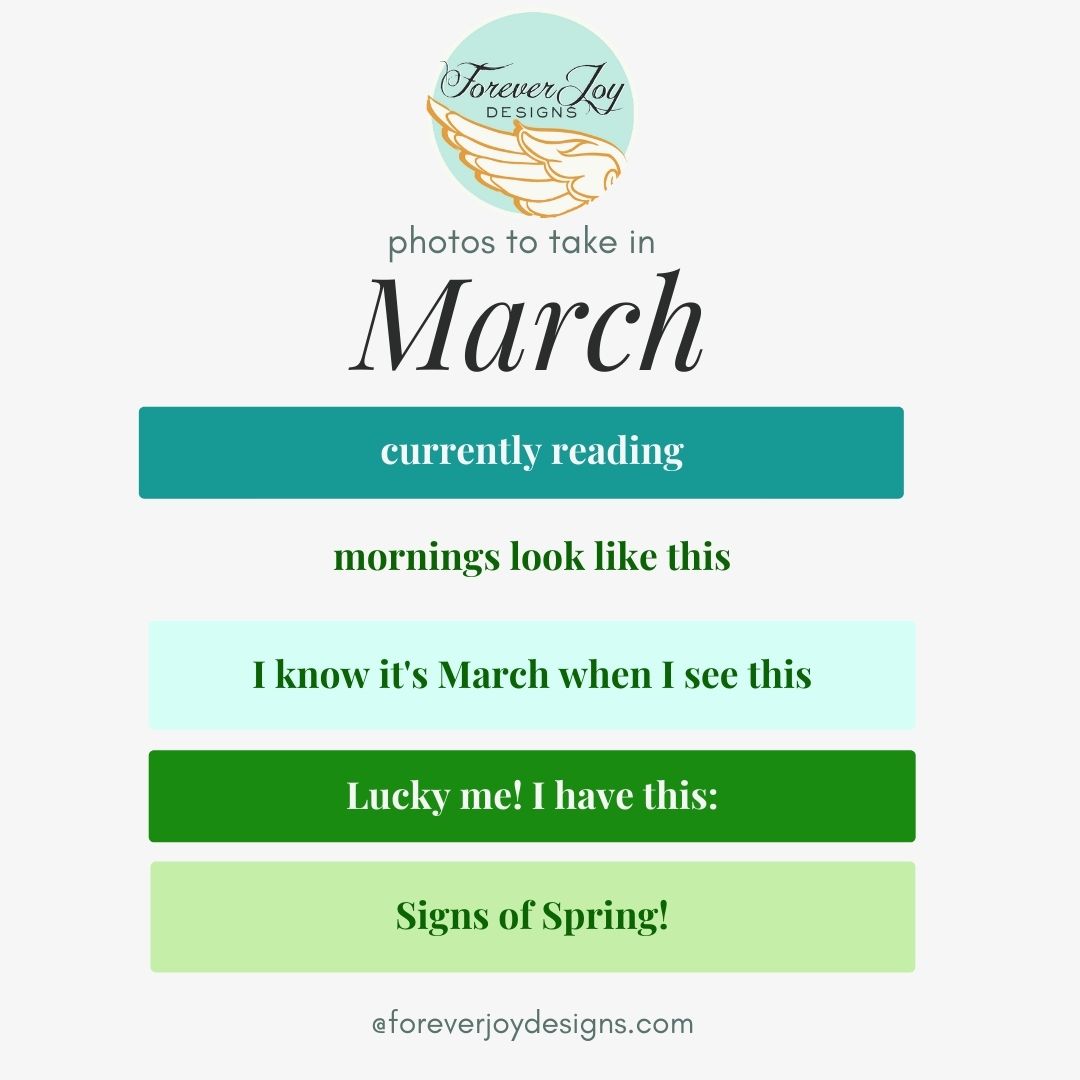 Hello March! Let's capture the special joys of this month with some more photo prompts!
At first glance these prompts may look simple- but trust me- there are some great stories in these photos!  Here's a deeper look:
Currently reading:  March 2 is #readacrossamerica day and #drsuess day! It's the perfect prompt to take a photo (or grab a screenshot) of what you are currently reading! It could be a book, a magazine- a blog, an audible or even a podcast! It could be a wish list of what you would like to read – or a quote that struck you as meaningful this month. There are so many ways to make this one your own- and that's the beauty of it! It gives a little insight as to who you are and what is important to you at this moment. Good stuff.
Mornings Look like this: Daylight Savings time kicks in on the 13th of March- and for me,  it's always a bit of a hard morning because I wake up a little behind! That being said- at least it's on a Sunday- so no harm no foul. It's a great prompt to take a few photos of your "typical" morning right now.
I always love these types of photos- and was introduced to this type of journaling with the Day in a Life projects by Ali Edwards.  I have been doing them for years and each book becomes more precious- yep- seriously precious– as each year pulls me a little further from that moment I never thought would change. 
I know it's March when I see this: I just love this prompt because while the days can all blend into one another- the months are bookmarked with certain little mileposts. Most notable- what is in my grocery cart- what is on my little fireplace mantle- what is on my windowsill and what I've decorated my front door with. I also try and change my screensavers- and try and take a screen shot of that! (Want to change your phone wallpaper with a custom wallpaper? Check out this post!) 
Lucky me! I have this! How could we not throw in a little luck here? March 17th is Saint Patrick's Day- and it's a terrific prompt to take a photo of one of your little blessings– family- puppy- home- health- there's just so much! I bet you could fill an album just with this! Maybe a collage will do 😉
Signs of Spring: March 20th is the first day of Spring- and it's the perfect time to catch the fever and document all the little signs of the new season! There have been times here in NYC that it is seriously freezing and the best marker I have of the new season are the daffodils and jelly beans on my desk! But that's real life- and there's definitely joy to be told in that story.
I hope these are just a few of the great stories that will unfold for you this month! Be sure to push pause whenever you can and capture them in words and photos.  After all, that's what #joymakers do!
*Each month I'll prompt you with 5 photos to take. 5 photos= 5 pages | finish the year and wow! you have 60 layouts with ready made journaling! ? #joycreated