If you're like me- even if you have thousands of photos on your hard drive, you don't have many of yourself.  I'm not talking about photos of you with friends and family around you- but just you. Flying solo. Cover girl style 😉 Yeah… it scares me too-  but I was able to assuage my guilt of feeling so horribly vain with a Ted Talk  I found online. (If you've never heard of Ted Talks- well, I am glad to be the one to introduce you to them- they cover a million topics and never fail to inspire and or uplift.  Beats You Tube Harlem Shake vidoes any day 😉
The talk explained that one  reason why we may not like how we look in photos is because when we look at ourselves everyday, in the mirror, the image we are seeing is actually a  "flip" of what everyone else sees.  Think about it- the print you see in a mirror is backwards- right? We never see ourselves the "real' way!  Maybe I'm showing my novice here- but – this never dawned on me!  Here's the video: (it's short- about 2 minutes)


So I decided I needed to get a few shots of myself- but I'm way too shy to ask anyone to do this with me.  However, some of my favorite self portraits I see online are those where the subjects takes a photo of themselves in a mirror- and you can see the camera.  I really like the artsy feel of it all. BUT- I have never been able to get a decent shot of myself this way.  Either the camera covers my face or I wind up looking at some wonky angel or things just get all round distorted.  So, I did a little research- and took about 50 photos of myself (of course, while no one was home-)  and found some tips that I wanted to share with you.  In case you find yourself alone in the house with a camera and too few self portraits on your hard drive!
First, I'm going to assume that you prettied your sweet self up a bit.  Even the most beautiful of us can benefit from some B&B cream and under eye concealer. Lip gloss=good. As for clothes, I've read that layers of clothes, as opposed to just a blouse or shirt can be most flattering in portraits-  I don't know.  I do think showing a bit of neck is most flattering though.
Next, Find a room with the most sunlight as possible- early am sunlight is the best- and see if you can have the light on your face as opposed to reflecting in the mirror. (Oh, and make sure to really clean the mirror!) Never use your flash.
Set your camera on wide angle.  I am a camera illiterate who rarely strays from auto.  But I did read that this makes a difference, so I figured out how to do it- and yep.  It does.
I know it's been said that you should try and keep the camera higher than you for a flattering shot, but I found that having the camera tight to your face gives the most natural shot.
Here's the tricky part- and it takes faith.  Put the camera close to your face, and don't worry about what's in the view finder.  Look at the lens in the mirror, or just a bit off to the side, not your eyes.  If you look at your eyes, I found I get a mug shot- and I get very self conscious and stiff.
Take about 50 shots- you are going to delete about 45- but oh!  The joy of getting a few good ones!  It makes this whole self conscious process worth it!
If you are not showing your pearly whites, it helps to push your tounge against the back of your teeth.  It firms out the neck a bit.
I played around a bit over the weekend and came up with a few shots that don't make me cringe- and to inspire you to let go of your inhibitions, I am going to post one here for the whole world to see- if I can do this- you can do this 😉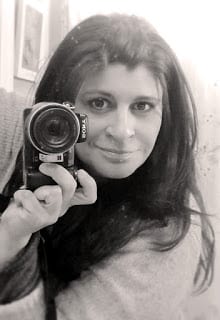 This is me.
No show stopper, I know- but I also know that is this face is my boys kiss good morning and that greets her sweetheart at the door every night.  There are circles and laugh lines round those eyes- but they are full of love- and memories of things my boys are too young to hear of yet! 😉 Pretty? Well, its pretty special to a few people in this world- and there will be a day, God willing- they can't believe HOW YOUNG I look in this photo.. tempus fugit my friends.  Today is the youngest you're going to look for the rest of your life 😉
PS: I am a huge lover of black and white-
So consider this a dare— because if we are to be true curators of our families memories, well, we have to be sure to be in the darn story!  Heck, every author has a sweet photo of themselves on the jackets of their novels- right? One or two photos of yourself will fill your scrapbooks more than you believe.