It's been said that photographs are a return ticket to a moment otherwise gone. I love that thought. Because, if we can return to a time- then it's never really lost is it? Not to us, or to anyone who can see and read and feel what that image means to us. We can tell the story of the obvious, or the subtleties. And in telling it- we share something of ourselves to- don't we? We share what is in our heart.  That, to me, is the reason why I take the photos, make the layouts, pen the words and dedicate all I do to this hobby we call memory keeping.
I have literally thousands of photos from the past year- and as I sat down to work on some layouts this past weekend- I felt myself getting frozen by the overwhelm of it all. Where to start? Chronological? Focus on the holidays that just passed- (that would help ease the guilt of all the supplies I bought to help document them!) So. Many. Photos. Where to start?
Scrolling through Pinterest for some inspiration- which invariably just leads to more overwhelm and less action- I came across the quote: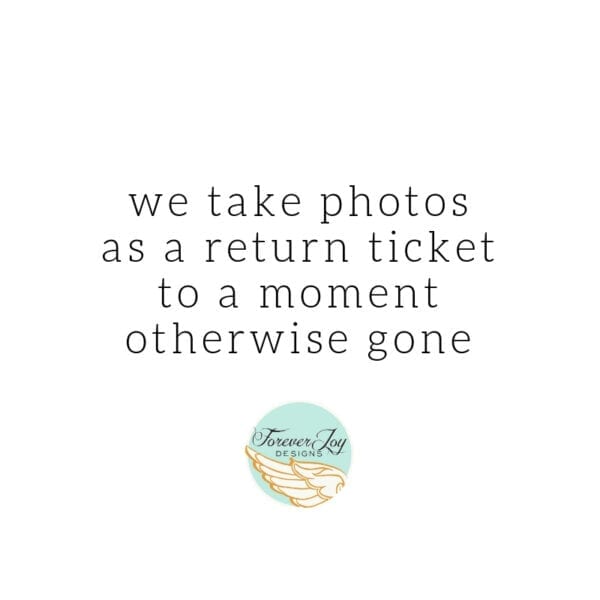 And it got me thinking about approaching my layouts that afternoon in a different way. What if I had 2 tickets? Only 2- to use to return to a moment I captured in photos the first three months of last year – what moments would I want to revisit? 
I pulled the photos- and opened a text document.  Even before I pulled any scrapbooking supplies. Back to basics. I pulled the photos- printed them out as 5×7 and put them into two piles.  It's kind of a Goldilocks size for me.  And then- I just typed away as to why those moments stood out to me. Not the who- what- when- where necessarily- but the why.  They weren't the prettiest photos and aside from lighting I didn't do much editing – and the 2 pages I made were not pin-worthy to be sure- but– I wouldn't give those two tickets in time away for anything in this world. That is what makes them awesome scrapbook layouts. 
By focusing on 3 months at a time- I get a loose chronological feel that keeps my album grounded in a certain year- but it's not rigid.  It's the stories of 2018 as they strike me.  I can rearrange the pages or slip stories in as I choose- a Project Life type layout here and a traditional day documented one there- but starting with my very favorite flashbacks- that was a good place for me to push pause and rewind- and then enjoy the ride.