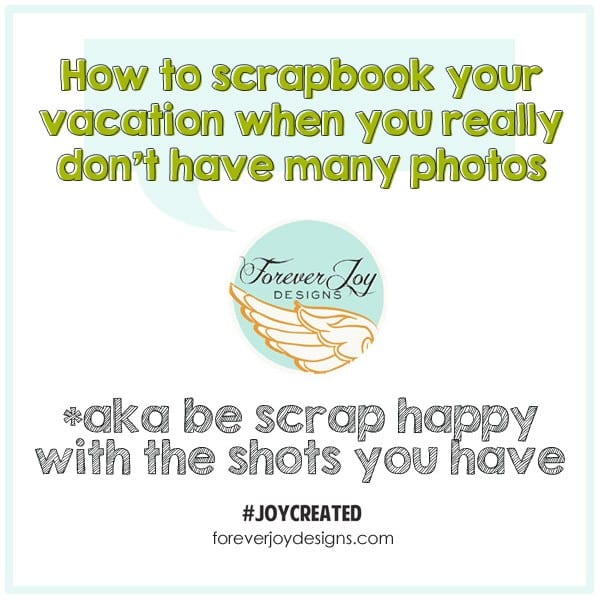 I know when I set out on a journey, big or, more likely, small- I always have the best intentions to get the perfect shots that will capture the feelings, the sights, the mood all the little special things that make the day one to remember. And then, when I get home and start to scroll through the photos I have taken, sometimes I can barely get something I would be happy sharing on Instagram! But- it was a great day, and I do have stories to tell- so what's a girl to do to pull together a layout that will capture the joy of the day when the photos are just- meh?
Seriously, photos don't matter. Can you believe I'm saying that? You might think that being a scrapper- life is all about photos- but think about it- it's not really about the shots. It's about the stories.
So, the most important thing to do, especially when you don't have great photos, is make sure you can tell a great story.
One of the best tips I can share is that no matter what- write it down. Even if it's just a bullet list, write down the moments, the little things you want to remember of the day. This is not something fancy for other people to see, spelling doesn't matter, it's just a brain dump and I try not to over think it.
I have two ways I do my journaling–
1. When it's recall of a specific day that's happening in the present- I write it diary style in a planner I keep with me that is set aside for just these stories.  Right now, I use the Websters Planner personal size.  Originally I had hoped to use it for my daily planning, but after a year or so, I realized that although it was small enough to carry around- it was just too small for my day to day planning- (Now I use the Happy Planner on my desk and Google Calendar on the fly) Anyway- it's the perfect size for my dairy style journaling, it fits in my bag and I can stuff memorabilia in it to scrap with later. But seriously, any notebook will do, right? It's just important it's dedicated to this purpose- and that it's well used! You gotta be in it to win it, right? 😉
Here's a shot of my notes (told you- not pretty) and the photos they go with.  The day I want to capture is glow in the dark mini golf- and my photos are pretty bad. Dark, grainy and not much detail. But I know there's a way to make this work, and I know it starts with the story.  I plan on making this page during the week, and will share it with you then. 😉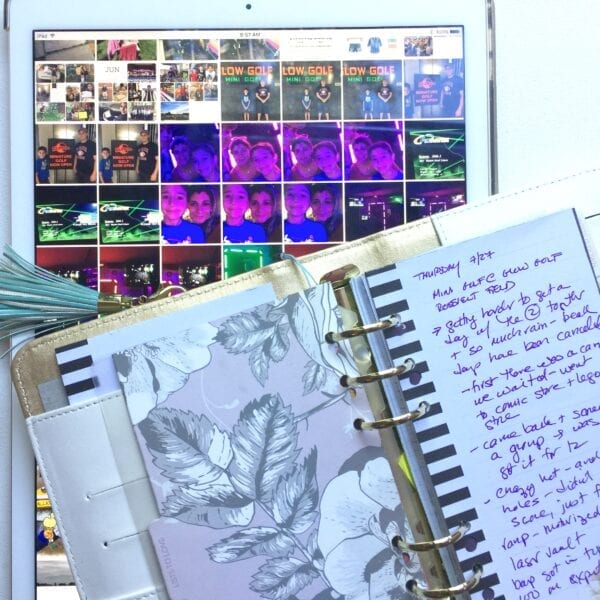 2. When I have ideas of stories I want to tell from the past, I use a very high tech option you may have heard of- index cards. Yep.  I have a box of the large ones in a holder on my desk and sometimes I will just write down stories I want to tell and keep them in a box and find the photos to add to them later. (You can check out a blog post I wrote about my little card bank here)
*I have been playing with voice notes on my phone for keeping my stories too- I'm about one month in, and if it works, I'll share my process with you later this month.
Next, the trick is to find a way to get the photos to support your awesome story.  I found a few great examples in the gallery that really hit the mark- check these out:
This page is so simple- and yet says so much. A shot from the windshield showing a wide open road- and though there's only one photo, I'm sure it sparks alot of memories!
Next, take a look at these pages: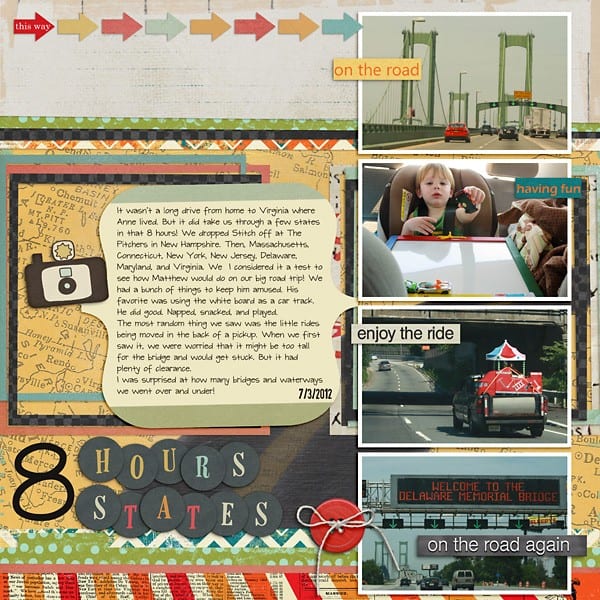 [credit]
Again- lots of shots from the car- and things you wouldn't think of scrapping per se- but the randomness of the photos- the wacky things you see on the road is the story- and pulling them together on the page tells it perfectly. The Word Art, "enjoy the ride" says it all.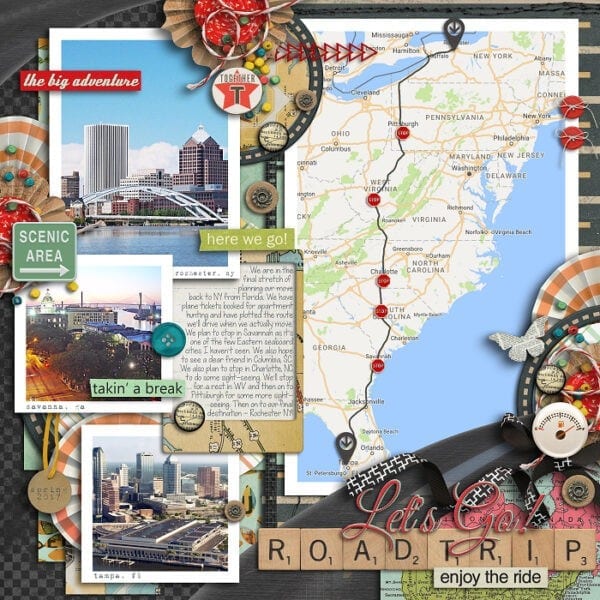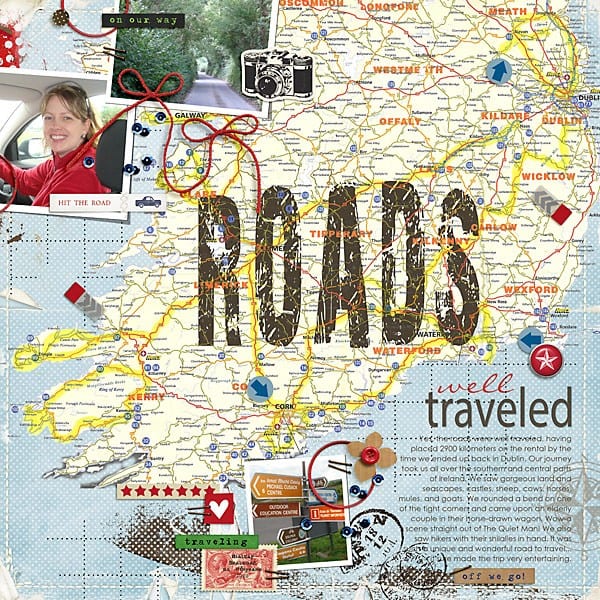 These layouts uses scenic shots, the car photo we all take and yes! a map- and truth told- those shots could've been pulled from the web- it's the journaling and the map with the rout that really telly the story. And that's a great tip- because sometimes you can tell a great story with supporting, or even stock photos as opposed to photos taken on the day of the event. It's the way we pull it together and blend all the elements that make our stories art.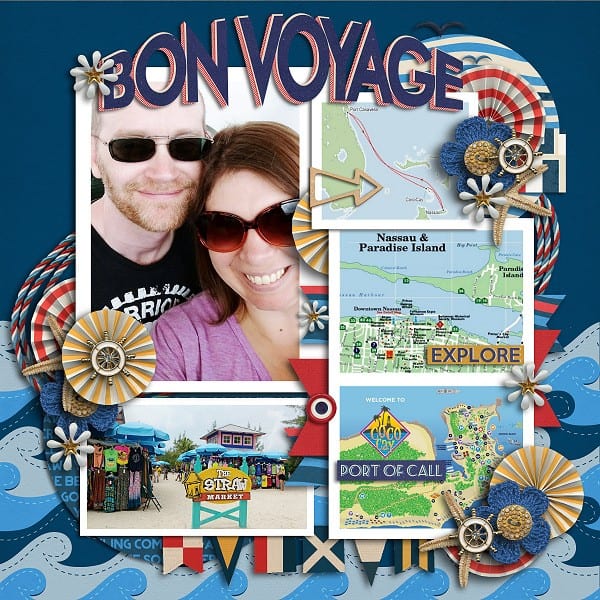 [credit]
Here's another great example of great storytelling- there's really only one photo of the place that was visited- and again, this could have been pulled form the web- but- the awesome shot of the two so happy together and shots that were pulled from a brochure combined with the right supplies make for a terrific page! You can see examples of this technique in this layout as well where that map became a terrific element of the page- and hey! It's free!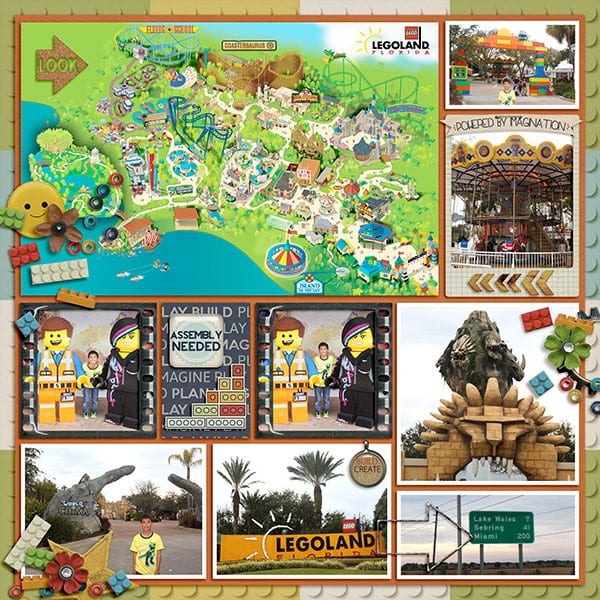 [credit]
Finally there is this layout which I love because it focuses on so may little details in such a beautiful way: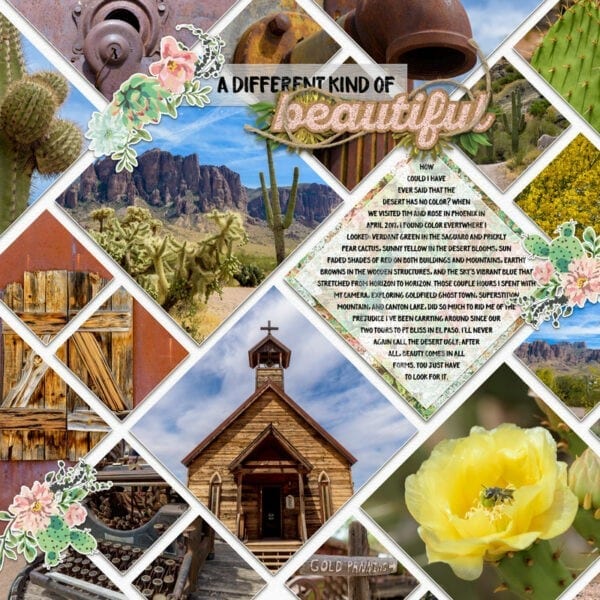 I love that this style could be used when you have photos that on the whole may not be awesome- but there are little gems in each of them that you can pull out- and when you group those parts together in such a stylistic way- it's just stunning and captures the total beauty of the day! That's what makes a scrapper's storytelling so special- artistic perspective!
Do you have any tricks or tips you'd like to share? How do you scrap Happy  when there's a drought of "good" photos? I'd love to hear about it in the comments below!