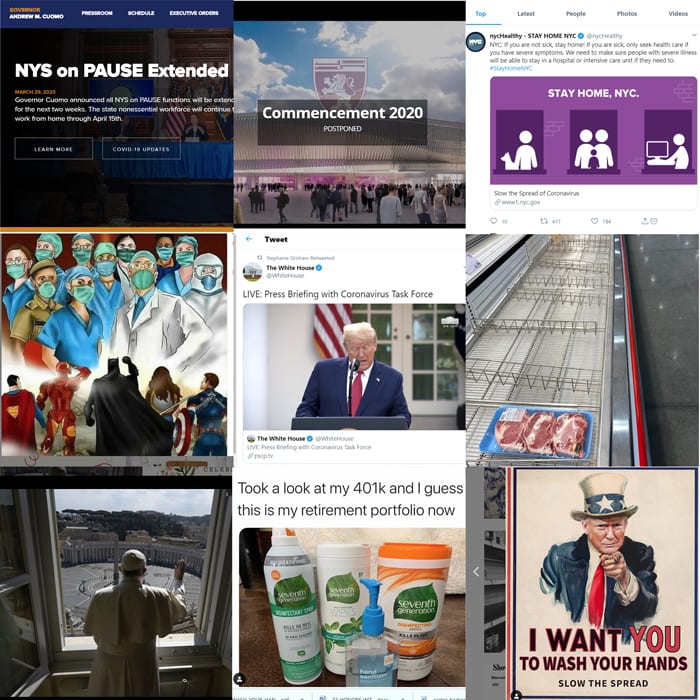 I like to think of myself as a memory keeper- a documenter- and a storyteller. I take hundreds of photos of my life and everyday each month.  Many candid- some planned. Life in NYC these days has been full of stories I want to document and preserve , because quiet frankly, we are living in historical times.
Yet, I have found myself hitting a block when I sit down to document my family's journey through this Pandemic.  Maybe because the news is so grim, maybe because I am a little scared- and quite frankly I wish it was a story I did not have to tell.
But, I think this is a story I must tell.  Beyond the reason of documenting. And I think many of you can understand where I'm coming from on this: as a mom, I am the one who sets the tempo, the spirit of our home.  I put on the upbeat music and tune down the news, I put the decorations up to remind the family that seasons change, and each comes with a little joy, I try and wear clothes a little brighter than usual, (and pile on a little under eye concealer lol) so it does not seem like I have given up- and I smile and encourage and nudge the family on in their routines, because they bring comfort. That's what we do as moms. Bring light, bring comfort, and make the days happier by focusing on the happy little things that happen.
So- after all that cheer-leading- truth is- I find myself full of news and thoughts and concerns and frustrations that I don't want to share with the family. That's where the importance of memory keeping and journaling comes in. It helps me get all those thoughts out onto paper- in words and photos. I get it out and it helps me make a little sense of it all and get a bit of perspective. I may not share this documenting with the family right now- but it;s there for me. A crafty sort of therapy you could say.
I have been photographing our every days of sheltering in place here in the city- and been taking tons of screenshots of items in my social feed. The screenshots are of headlines, posts both serious and light hearted, texts and face time calls.
I tried something new on Sunday that I think I may carry through for a month.  I like to call it #screenshotsunday .  I made a simple grid template in photoshop- and then clipped screenshots I had saved and  collected through the week- and if I missed a few, I did a quick web search.  I didn't journal on it this time around- maybe that's something I will circle back to. I think what will be the most satisfying will be seeing how things went from bad to better- proof that storms always pass.
Have you been documenting these days? Is it something you'd like to do?  I'd love to hear your tips and tricks! Just leave a comment below!