Especially this time of year, when there are so many stories to be captured- I wanted to make it a point to scrap more often- to tell more stories- but in a simpler way. I love Project Life- and I am a big fan of mini books. It's only natural then that my attention has been drawn to Traveler's Notebooks.
I thought kits designed to fit these Notebooks would be a terrific new line to introduce to the shop- because it will make crafting the joy of our days simple and fast!
This week you can find the first ForeverJoy Traveler's Notebook kit in the shop- and just in time to help Document your December!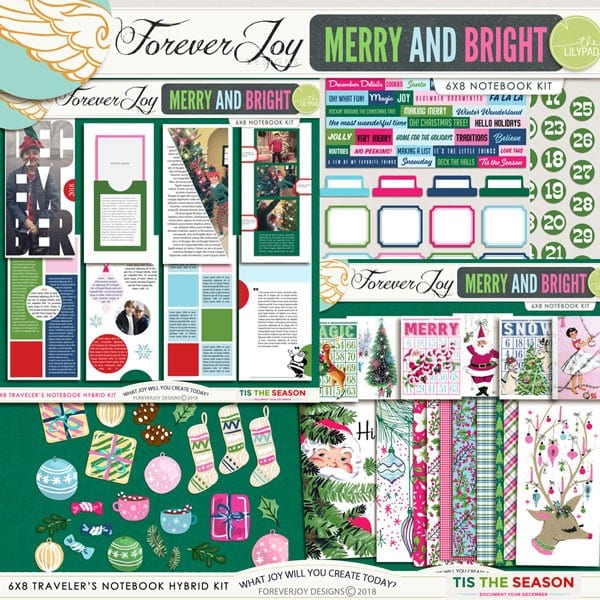 It's sized at 4×8 inches, so it not only fits perfectly into most TN's but will also play nicely in your pocket scrapping! All PDF sheets are 8.5 x 11 – perfect for home printers!
Inside you'll find all you need to make a December themed Traveler's Notebook:
a set of 8 PSD templates (4×8 inches) ready for you to clip photos or papers to- and journal blocks already formatted.  Just type and print!
a set of 10 papers in 4×8 inches in JPG and PDF format.
a set of 4 Journal Cards 4×6 in JPG and PDF format
a set of tags and word snips
a set of hand drawn ephemera ready for you to print an cut in PNG and PDF format
and finally, a full set of numbers in ABR brush, PDF and PSD format.  They are sized at 1 inch so you can easily use a circle punch to pop them out!
Before I pushed the button on the line- I waned to make sure it was useful – it had to hit a need that I was missing. It also had to be easy to work with- and I need to love the look of the final project.
Guys, I have to say – I truly loved how this new line hits all those marks!
I used heavy weight presentation paper- and- here's something I will always use from now on: Letter Sized sticker paper!
That way I can easily peel and stick- nice and flat and smooth- all the papers and templates to my notebook!
I'd love to hear your feedback on this new line- and let me know if you have any questions! Bottom line: I hope it's a product that makes crafting your joy a little simpler and a lot more fun!