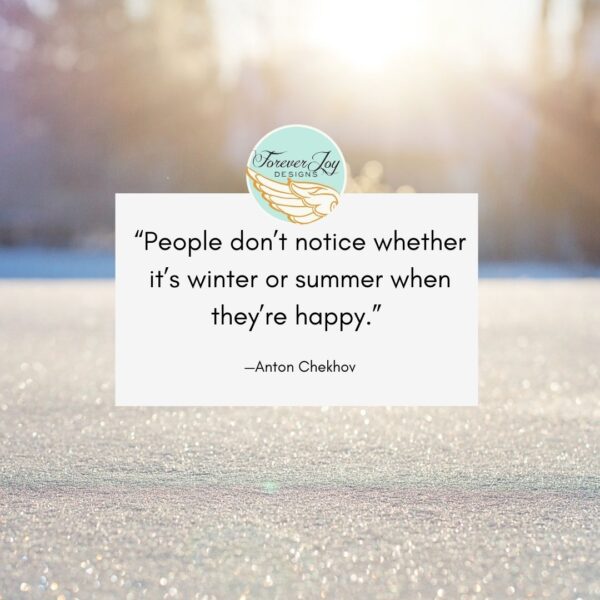 I wanted to share a story with you today in case you needed to hear: there's sunshine to be made,  even in the coldest winter.  Winter can be hard. I really do not like the cold.  As I write this post- it's January and freezing and grey here in NYC.  The Holidays are over- the magic and celebrations that come with the start of the season seem a forever away and all I can think about is that I am freezing and holy cow!-  when did nighttime start at 4pm.
But here's the thing that I truly believe with every ounce of me- you should never wish away days. Good times do not have to wait for warmer days, for brighter skies, for greener views outside our windows. All we really know for sure is that we have this moment.
Be happy for this moment. This moment is your life.

Omar Khayyam
I remember a cold day a few years ago.  I was driving with my dad and the day was a bitterly cold and dreary winter one. We were talking about how the time between January and March is such a rough one- how dreary and long it seems and I remember telling him- "don't worry- Spring is just a few months away- you'll see- things will get better. Easter and then Summer will be here and it will be great." Brighter days ahead. That's a promise I embrace and use so many times when setting my sails through gloomy days.
He passed away in the first days of February.
All we had was the dreary winter.  Here's the thing though- this is not a story of time wasted- and that's why I want to share it with you.
Late that miserable January we made it a point to drive into Brooklyn to have dinner with Mom and Dad. Yes- outside the weather was terrible- the slush was frozen into fierce mounds- parking was impossible- and it was the type of day you really did not want to venture outside the comfy of your own home.
We did though, and once we got to Mom's and stepped inside- the smell of Pot Roast,  the sound of Dean Martin on the radio, the awesome feel of the tight bear hugs from each of them, the chatter of talk around the dinner table- that was the joy we made that day- and it was a wonderful warm memory on that bitter cold day. The best part? When my dad decided he wanted to turn in early- and said goodnight- I stopped him and demanded a big smooch-he laughed and said something about me being impossible and planted a big kiss on my forehead.  Turned out that kiss goodnight was really a kiss goodbye. He passed away a few days later.
What I am so thankful for is that we didn't wait for the seasons to dictate our warm times together- we made our own sunshine.  And that one happy day when we made ourselves happy on purpose brightens up the memories of the terrible sad winter months that followed that year. Looking back with the gift of time- the hard corners of that season of loss are softened by the cozy little dinner we had together.
Embrace the winter- find the joy in your day and capture it with your storytelling. These moments matter- and their warmth has nothing to do with the weather outside your window. 
xo –Renne